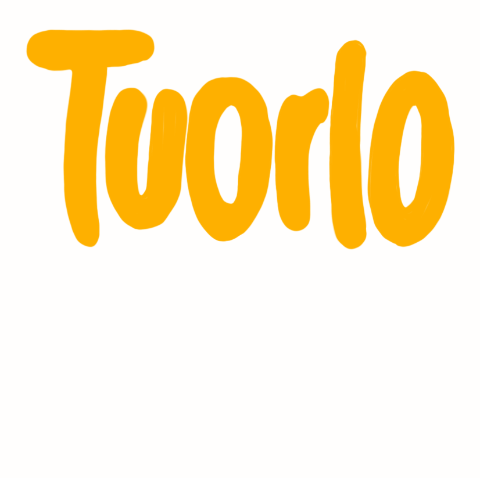 Food
Wine
Territorio
Armenia, World of Undiscovered Treasures
Exploring a brand new country is like jumping into the fresh and cool waters of Armenia's Lake Sevan: overwhelming but full of excitement.
Play video
Diving into Armenia is a journey through an unexplored and multifaceted land. A disputed territory with an incomparable cultural heritage full of religious signifcance, Aremenia is paradoxically filled with a genuine warmth in its people and hospitality to guests. From the backdrop of glistening lakes to the vast expansive mountaintops, Armenia should be on every in-the-know traveler's bucket list. Armenia's complex history as successor to the Urartu Empire and subsequently, Persian rule, and later part of the Russian Empire, has contributed to a unique and surprisingly rich gastronomic culture. As survival is a core element of Armenia's people, it too is a core element of Armenia's food. Yet, there is a strong desire in the country to modernize their image and shine a light on all of their cultural assets.
The Modern Armenia
Yerevan, the Armenian capital, is a flourishing modern city with a bustling restaurant and bar scene, featuring unique concepts, natural wine bars and contemporary mixology.
Residents and the diaspora alike are clearly looking to unlock the country's potential through ambitious and often community-based initiatives, particularly focusing on younger generations. Projects include the UWC Dilijan College, focusing on education, and Tatev Revival located in the south, which includes the restoration of the ancient Tatev monastery complex set alongside the world's longest non-stop cable car, Wings of Tatev. This project works with local communities to educate and help them understand the importance of local infrastructure and the tourism regulation.
The Armenian Quest is the latest project brought to life by the Gagarin Project of the DAR Foundation for Regional Development and Competitiveness, in collaboration with Bon Vivant Communications, and the support of the Republic of Armenia Tourism Committee. This four-week collaboration is a journey through the roots of Armenia, contributing to the regional culinary landscape and attracting young people. Tsaghkunk is a part of this project: a restaurant bursting with wonders to be discovered. Here the typical Armenian bread, lavash, is made inside a reconstructed ancient cave to simulate and inform people about the traditional baking process in the tonir oven. During dinner, this plays a special theatrical element before the main meal is served.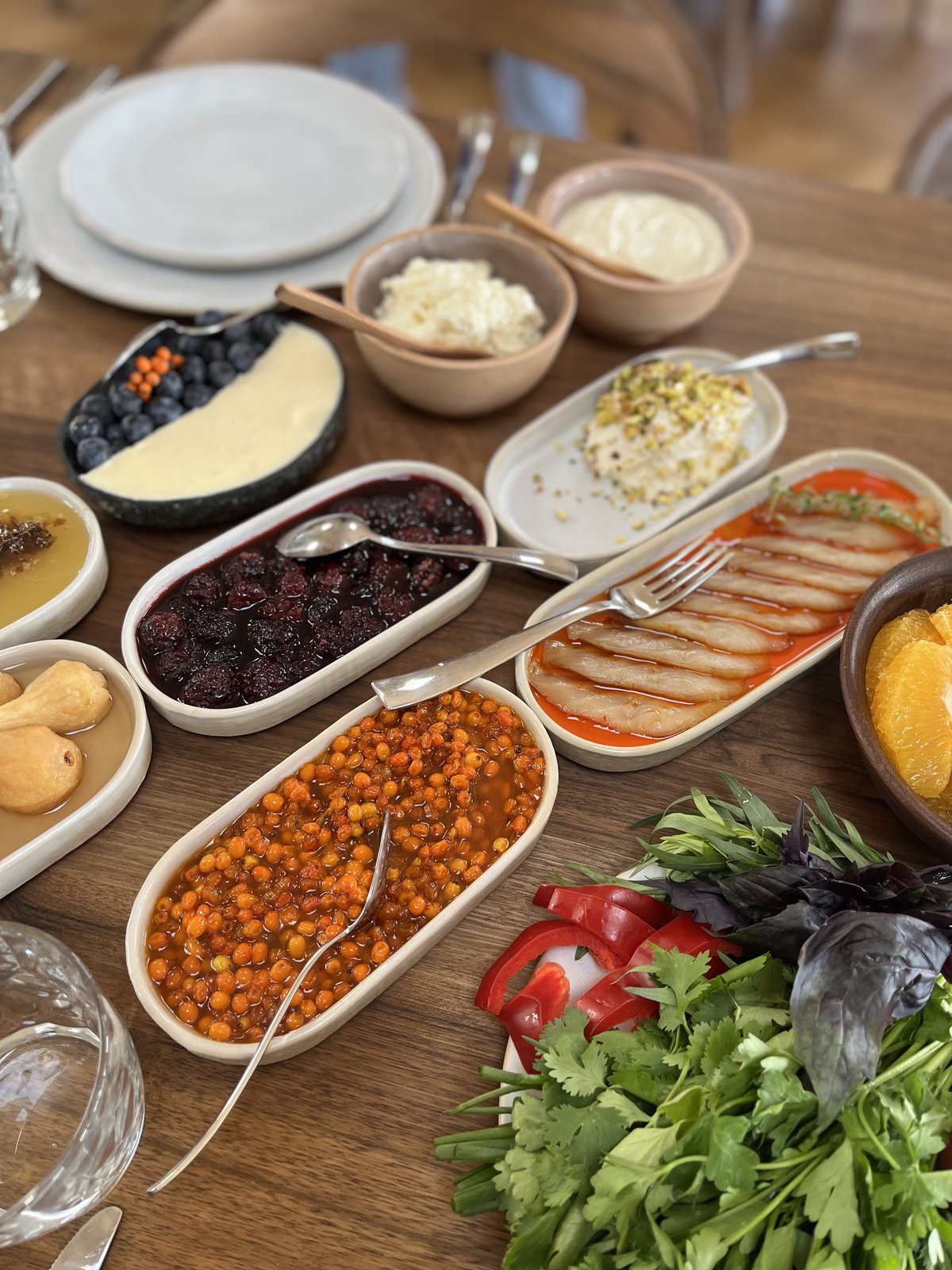 Mads Refslund – chef and co-founder of Noma – was invited to study and interpret the local and regional culinary landscape. After discovering numerous small dairies, vegetables and meat producers, he worked closely with them for a month to apply the principles of New Nordic cuisine. That is, to redefine the limits of local ingredients and find new ways of implementing them into the local culinary narrative.
Armenia's cultural complexities explain the on-going debates surrounding the origin of some dishes, such as basturba or harissa that are arguably derived from ancient Armenia, according to the local expert Sonia Tashjian. According to her, the recipe that signifies the harmony of local flavors is dolma, which consists of a vine leaf stuffed with minced vegetables and a mix of paprika, cumin, alder, dried thyme, mint, lemon, and basil, among other herbs. Many varieties of this humble daily food, nevertheless containing a complexity of flavors, have been reported throughout Armenia's history, hypothetically assuming that the word dolma originates from the Uratian word 'toli' – meaning owner of grapes.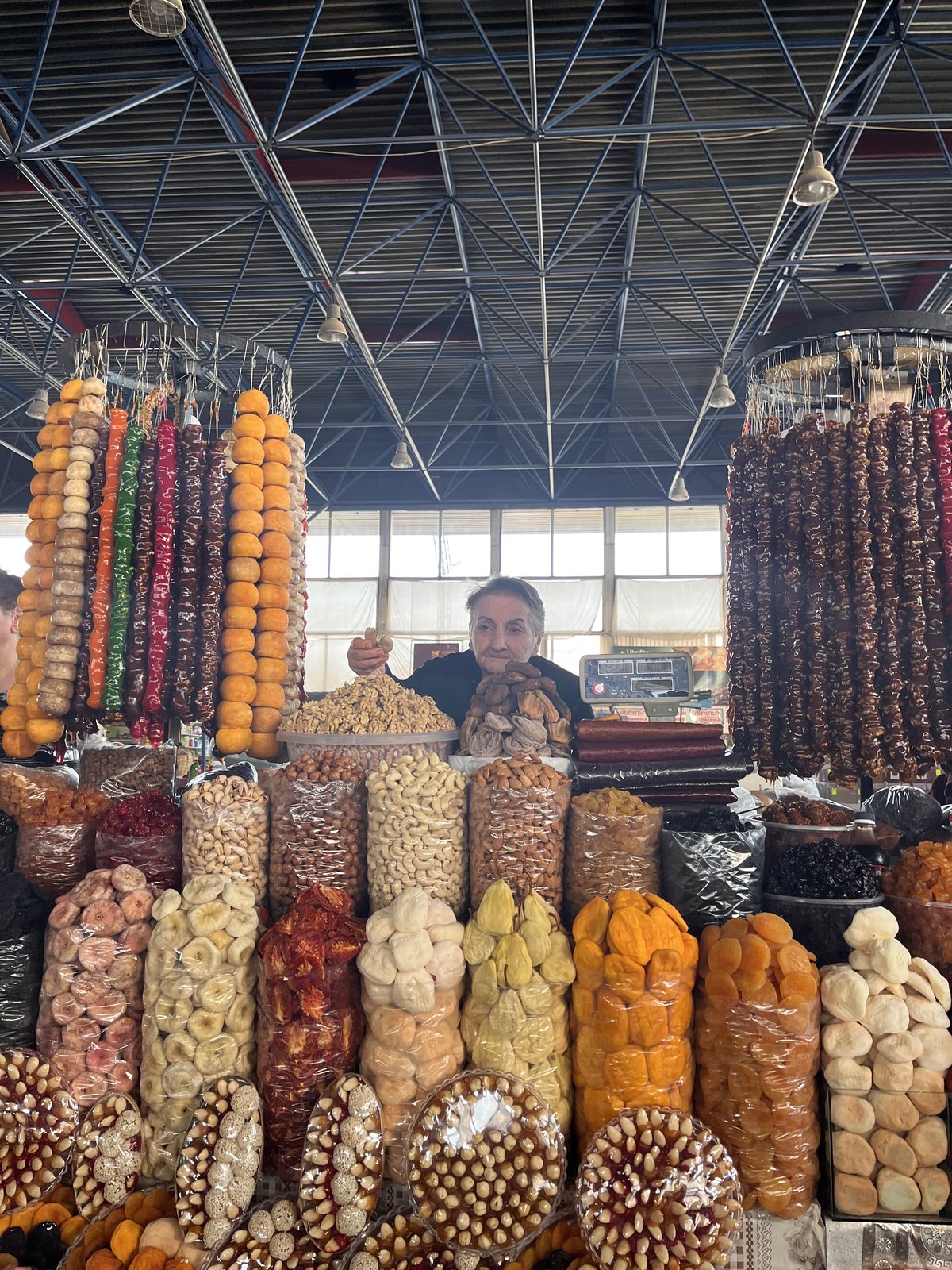 GUM market, the wonderland of local produce
Two thirds of Armenia is covered in mountains. It is no surprise they have become experts at cultivating a wide variety of fruits and vegetables at high altitudes. Plains around Lake Savan, Shirak Plateau and the mountain of Ararat are some of the most famous grounds, characterized by extensive sun exposure, a dry climate and fertile volcanic soil.
The GUM market showcases local products, and it is easy to see the pride of the vendors when they specify the exact region their product comes from, like the best pomegranate comes from the Meghri region. Strolling through the market you are greeted by colourful varieties of dried fruits, nuts and other sweets, the vendors and their treasures. You will easily find your hands full, as saying no to an old lady stretching her hand out to offer a sample of freshly cut Sujuk is shut down by a simple '"Take, grandmother is offering."
The smiling women hiding behind the extra tall mountains of pickled cabbage, cucumbers and other vegetables, make the moment as beautiful and delightful as these pickled goods. The famous local cheese chechil appears in the form of white strings, and round black balls are discovered to be whole-boiled walnuts in their shells. The pickled watermelon surprises with its great taste, by the stands showcasing basturma, that is highly seasoned-cured beef, next to pickled chicken legs.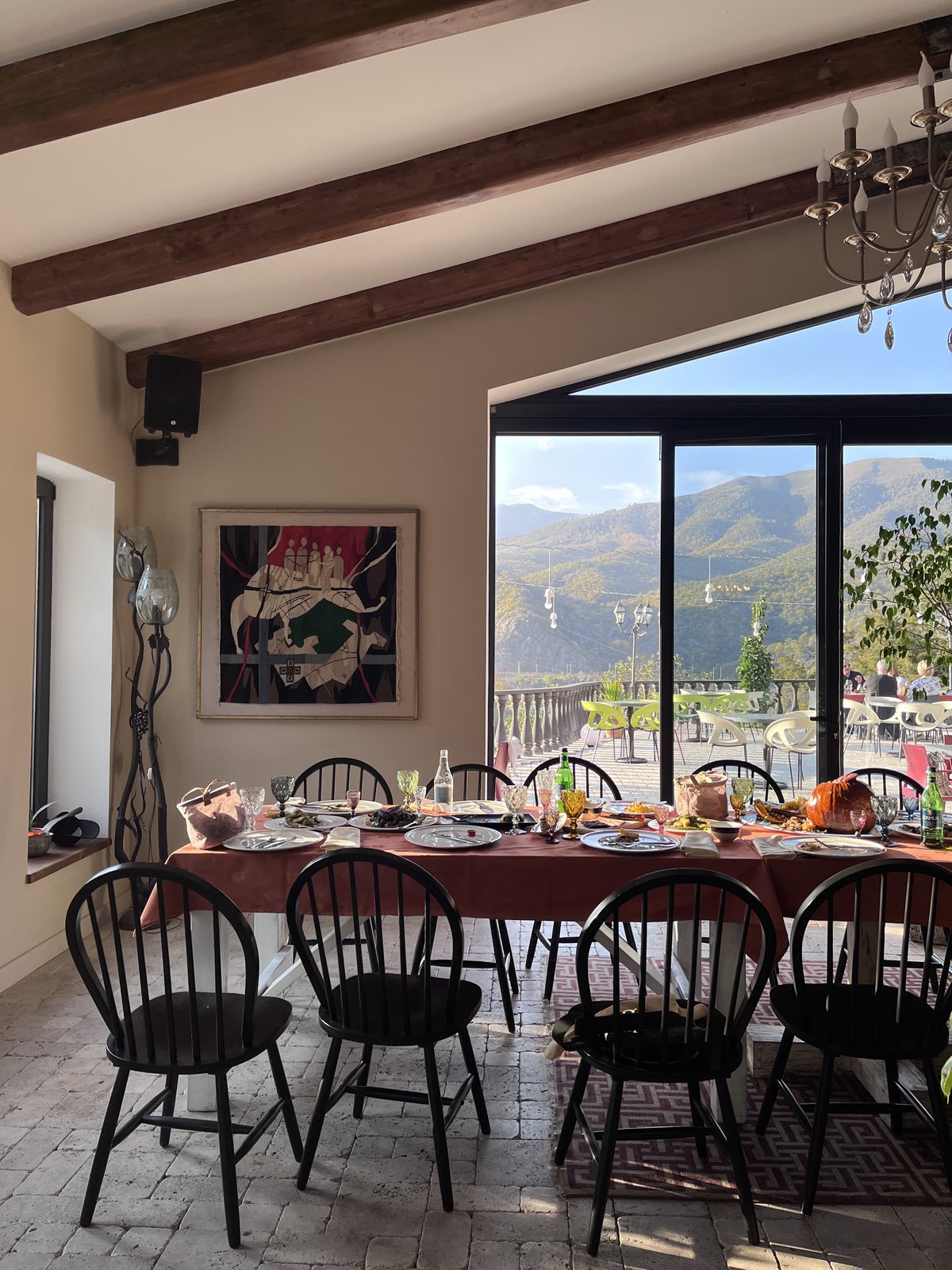 Dilijan, The Switzerland of Armenia
Dilijan emerges with a view of endless rolling hillsides and a calmness within the landscape. Locals also call it the "Switzerland of Armenia" and indeed this province has a lot to discover.
Imtoon is a local guesthouse that offers breath-taking views over the town. The owner Jirayr Avanyan has been at the culinary precipice of Armenia for more than 20 years. From the outside one could mistake it for a typical stone-covered Tuscan villa, welcoming guests for both accommodation and dining at the restaurant Dolmama, where one can sample some spectacular traditional meals such as ghapama, a pumpkin filled with rice and dried fruits. The moment the pumpkin is cut open to be served, creates a truly special experience with the rice and all the fragrant flavours exuding out. Imtoon really encapsulates the meaning of its name, "my home", through its wonderfully designed setting filled with antique objects and carefully chosen art.
Dilijan is not just beautiful but is also considered as one of the country's financial and educational hubs, hosting the Central Bank of Armenia's Training and Research Center, as well as UWC Dilijan College.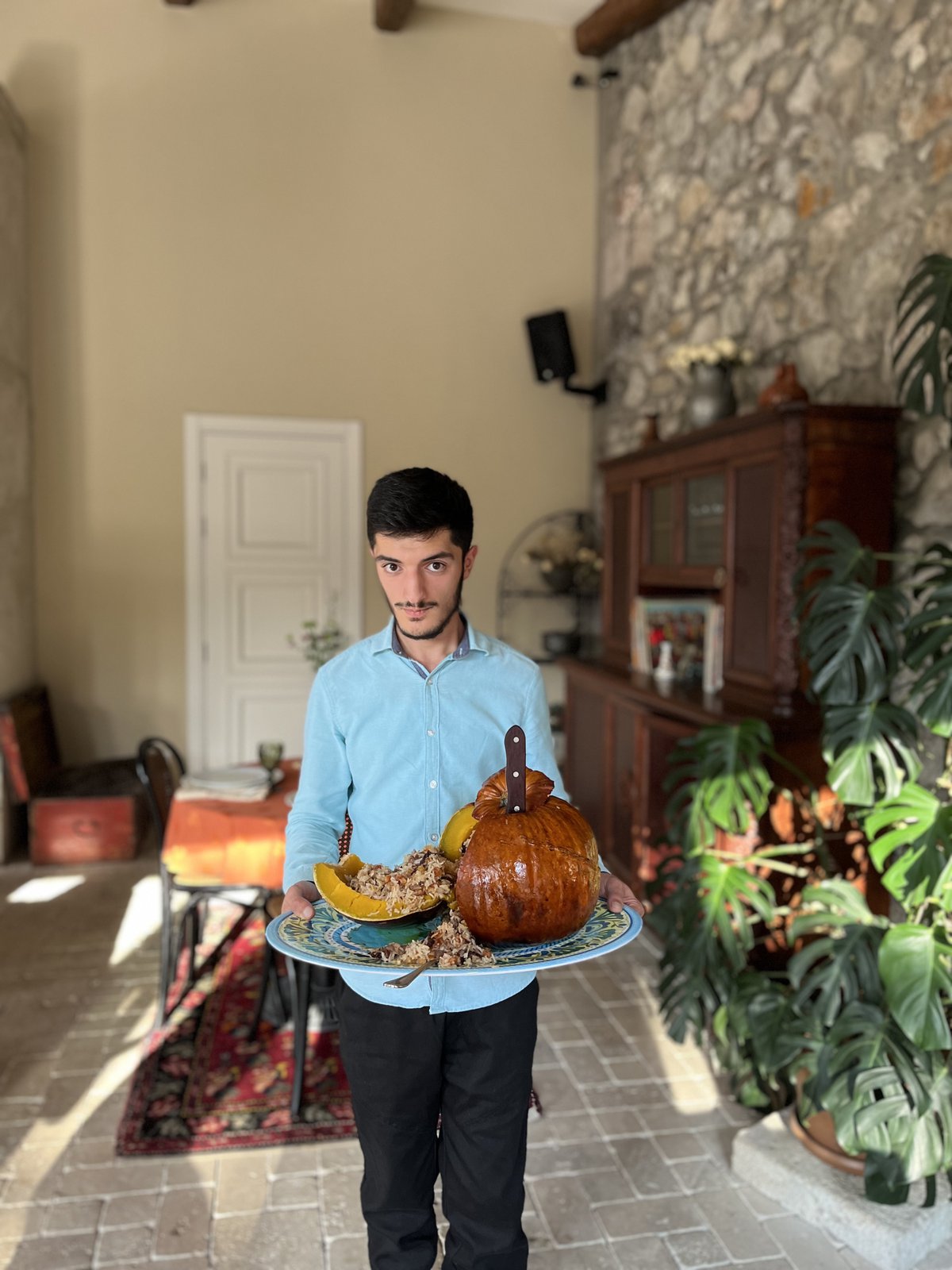 There is also an abundance of the younger generation in this area, dedicated to the exploration and perseverance of Armenian culinary heritage. Art historian Ani Harutyunyan created Arm Food Lab as a research and educational platform, additionally serving as a test kitchen. Initially inspired by the legacy of the New Nordic movement, she was curious as to how this approach would work in Armenia. Now, a few years later, she collaborates with young and local chefs, and proudly shares her experience of recently foraging together with Mads Refslund.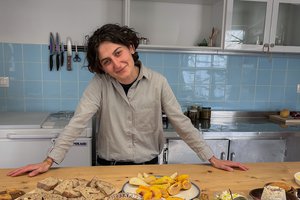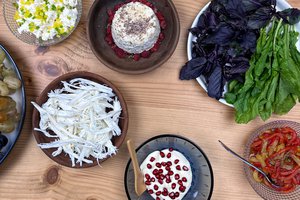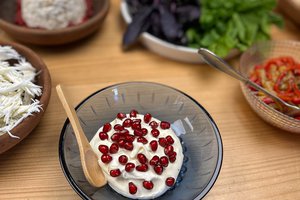 Machanents House: Out of this World
A cultural and tourist centre with a museum, a studio, a theatre, a wine cellar, a guesthouse and some satellite antennae that serve as a cooking tool for local trout. Is there anything Machanents House cannot do?
Located in the Echmiadzin region, Machanents could be mistaken for a children's camp, which opens up into a cosy dining space. A step further brings you to discover two huge satellites set up for cooking fish. The idea of 'sun cooking' may not be new, but here it is a spectacle to behold. The scene starts with placing a transparent glass pot filled with fish and walnuts in the centre of the satellite. Once going, the heat that comes from here reaches the scorching temperature of 700 degrees.
The fish develops a lovely smoky flavour coming from the unshelled walnut at the bottom of the pot. The dish only contains fresh fish and a pinch of salt, with no oil or water necessarily added, really allowing the eater to enjoy the natural flavour of the fish. Here, they not only utilizing one of the country's main assets, the sun, but also, looking forward with an eye towards health and sustainability.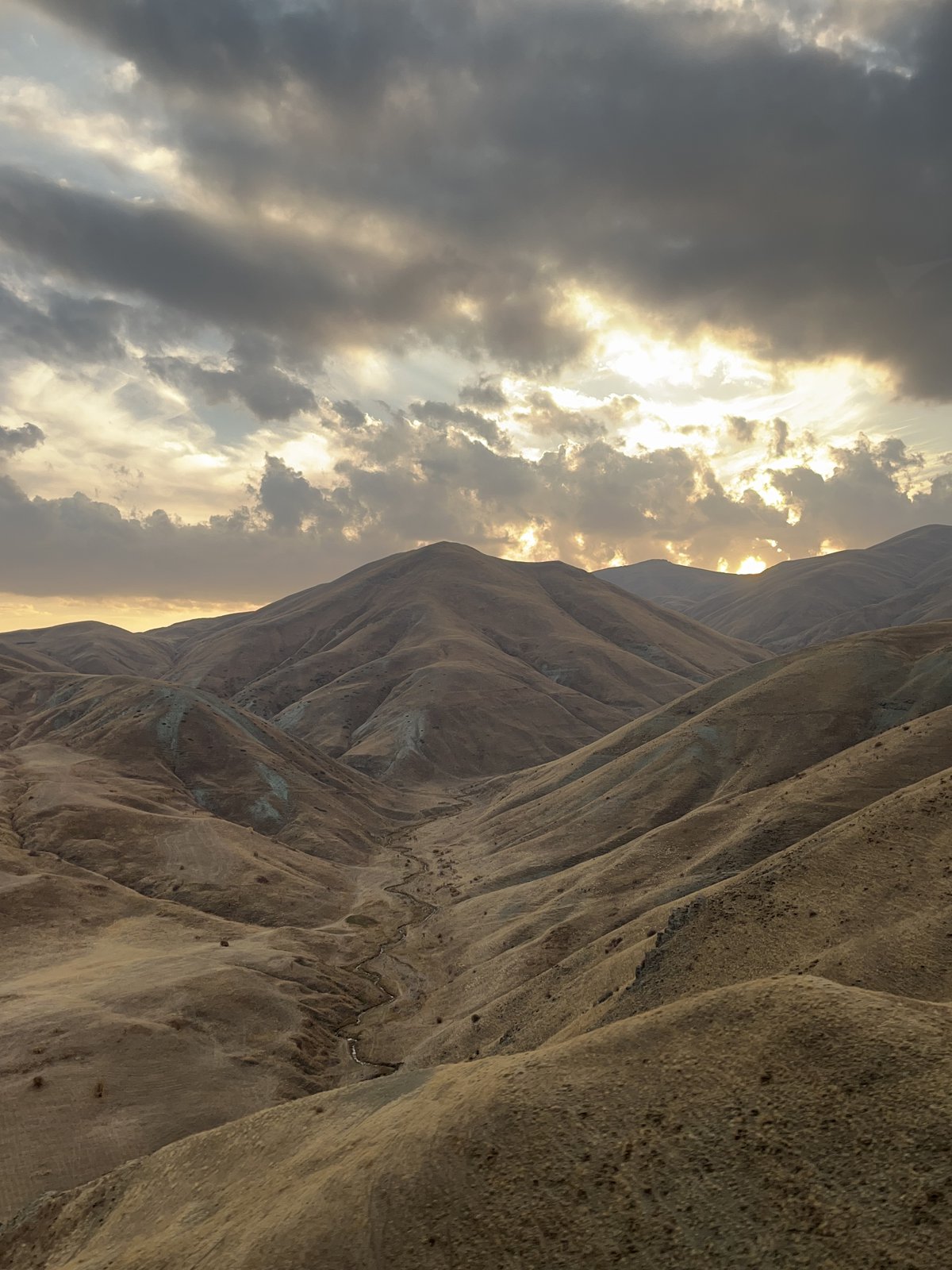 Armenian Wine Renaissance
Armenia's particular terrain makes it a perfect place to cultivate wines of great quality. "When I arrived in Armenia, I felt like I was entering another world. What was especially notable were the mountainous landscape and the volcanic terrain, features that make the country so fruitful for wine production" notes wine and hospitality expert Veronica Rogov.
The historical tradition of winemaking in Armenia stretches far back. Over the past few years, the Armenian diaspora has made many people return to their homeland, and invest in wine production.
Varuzhan Mouradian, owner of Van Ardi wines, is one of those people. He returned to Armenia from California in 2008, with his family. Nowadays he applies a biodynamic approach to winemaking, making note of the energy from the sun, the sounds from the bell tower, and songs focused on the musical scale of D major - all positive factors that contribute to the good health of his grapes. Van Ardi's estate is one amongst few wineries that grow native Arenia grapes, one-of-a-kind throughout Armenia.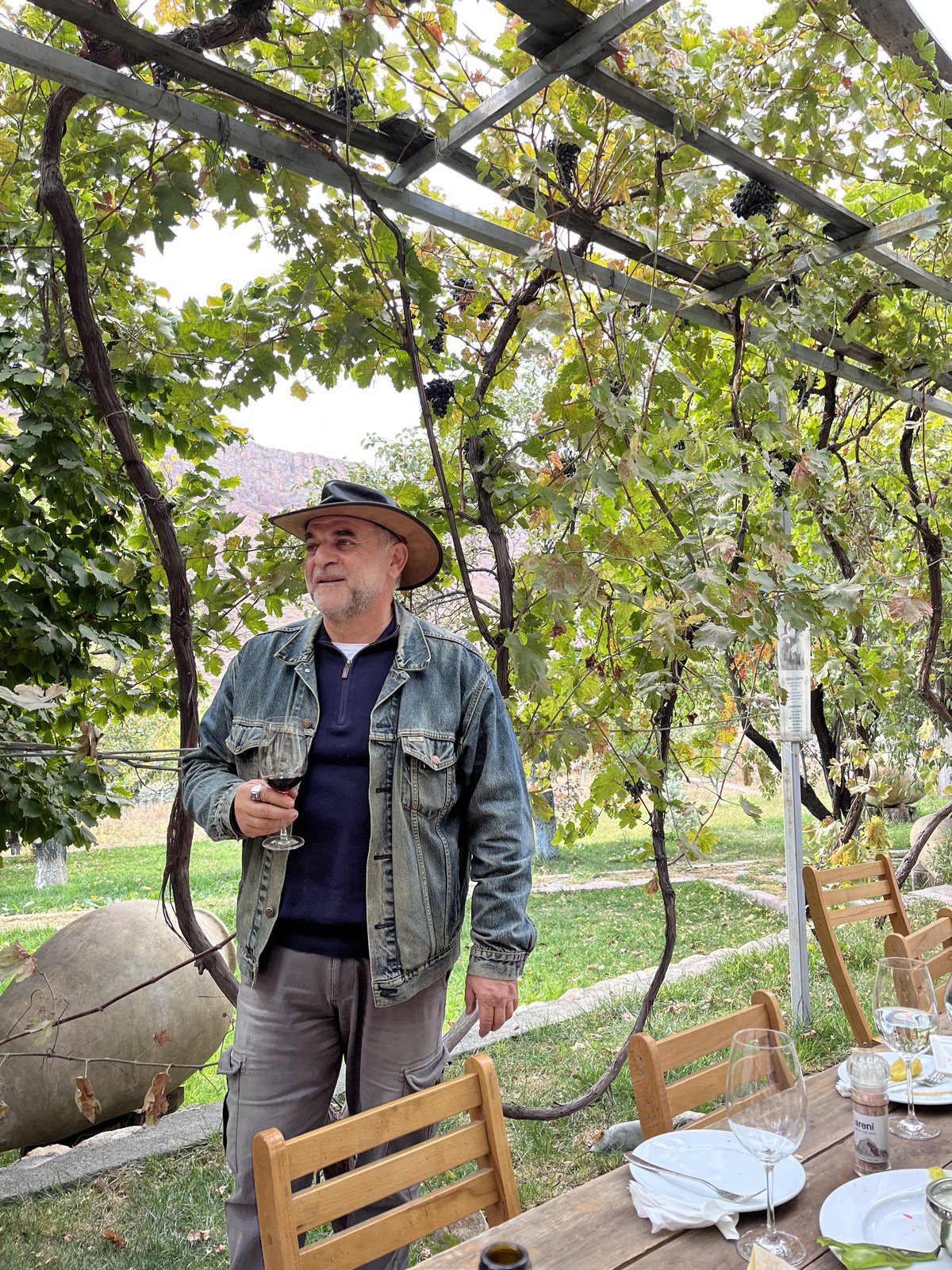 The Trinity Canyon Vineyard stretches across the unique Vayots Dzor Highlands. In 2011 here the world's oldest known winery and wine producing site, a karst cave named Areni-1, was discovered. The estate proudly cultivate the Areni Noir grape that is currently only grown in Armenia, and is also trying to potentially become the signature grape of the country.
"Wines produced in neighbouring Georgia have long overshadowed Armenian wines, whose importance has only started being recognised in the last two decades" says Rogov. "As Armenian wine culture grows, it is important to support winemaking that is independent, based on indigenous varieties that are organic and biodynamic. Winemakers and farmers have the responsibility to educate people on these issues. This is already happening. The wine centre In Vino in Yerevan is the epicentre of wine education in the country." She continues, "When my time in Armenia came to an end, I felt like we were just getting started. We'd only begun to create a sense of momentum. There's a lot of depth in the Armenian wine industry that we've just begun to explore."