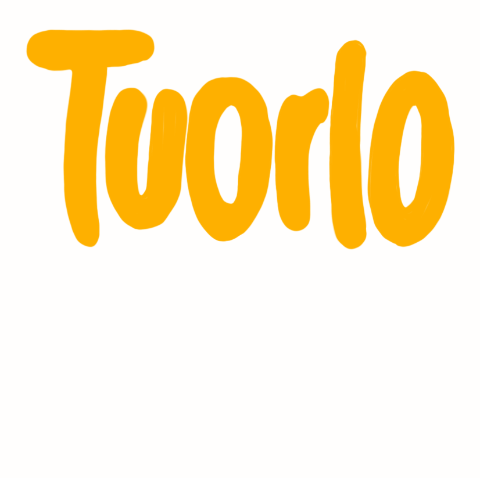 Fast bikes & slow kitchens
In the industrial periphery of Bologna in San Lazzaro Di Savena is designer Riccardo Randi's showroom and warehouse, Very Simple Studio.
While working on the reinvention of the urban kitchen, opening physical doors in the former HQ of moped company Velomotor Testi was kismet to Randi whose hobby is fixing vintage motorbikes. He rides his 1991 Honda XRV rd04 to and from the studio where he too works around metal daily.
I met Randi and his co-founder and collaborator Federica Poluzzi during Milan's Salone del Mobile in 2018. Just starting out, a knowledge for Bologna and a mission to scale their "made in Italy" ethos charmed me. The industrial-inspired kitchen spoke to my New Yorker within.
I was recently married and on the hunt for a rental apartment in Milan. I swiped through listings of kitchens with tubes and wires emerging from walls covered in fading antique cementine tiles; lines left on pretty pavimento floors from stoves and ovens taken away along with previous tenants shelves. Just a lightbulb remained. I had visions of daily moka pot brew splatters and over full pots of salty pasta water bubbled over. "Fast kitchen" may be an obvious choice for rentals with multiyear rent control. However, the thought of buying appliances (that I'd eventually move with!), meant to me that the countertops and drawers should also be meant to last. Furnishing a kitchen you might want to move with some day is commonplace in Italy and designing a non arredato (unfurnished aka no kitchen!) apartment was my daily daydream and frequent nightmare. In the end, we found a flat with a built-in "continuous kitchen." Even if I still want to ditch the deep corner cabinet doors that are hard to organize and liberate my kitchen gadgets and tools from behind opaque doors, Poluzzi came by to assure me that what I had found was right for our space.
While Very Simple Studio (VCC) business is mostly homeowners and offices, Randi and Poluzzi played into my American naivete, though it does hold a bit of weight. Sustainability is not only sourcing locally but is reflected in the material value. Steel is durable and recyclable.
It was the powder coated color pop of Very Simple Kitchen that set to pause my Instagram scrolling. The experience of building your own dream kitchen on their website. A user friendly Tetris game, stacking drawers and lining up countertops - all framed by stainless steel. While I am trying not to use the word simple, it comes to mind as the ease of design and industrial feel makes you want to cook more and better.
Randi met Poluzzi as an engineering student at Università di Bologna and then left mid-degree for Milan to finish his studies in product design at IED Istituto Europeo di Design. They reconnected when he went back to Bologna and created the first Very Simple Kitchen prototype in Randi's garage. With the slick vision of a Bologna-based design agency they paid for with their savings, VSS doors opened with a website only at first. They relied on friends and family, including Randi's social media strategist girlfriend (now mother to son Romeo and business partner in a hotel project) to get the word out on Instagram. While traditional suppliers refused to believe social media and passa parola would create enough buzz to sell their metal kitchen, orders for VSS kitchens lit up their inbox. Randi's mother, a restaurant entrepreneur, shared her connections to steel suppliers, which brought them trust and a line of credit.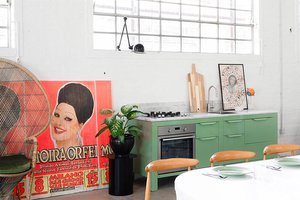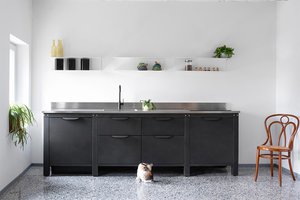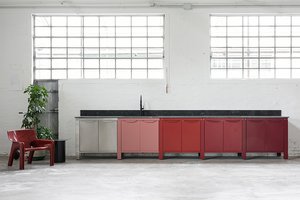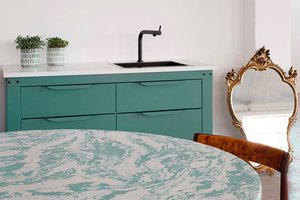 VSS kitchen merges architecture, furniture and efficiency. With optimized storage and preparation furnishings, Randi's first encounter with stainless steel was washing dishes in his mother's restaurants as a teenager. He also honed a craft for tinkering adjacent to steel-fixing cars. With an ever emerging trend in food consumed by television in media, VSS cites chefs and their commercial work tables as the starting point for his Very Simple Kitchen idea. Customization of colors, countertop material, sinks satisfy aesthetic ambitions; modular and stainless steel, like restaurant kitchens, makes them less expensive. Steel kitchens have been a mainstay globally since the 1930s. With the rise of the 1920s Monel Metal sinks and countertops were promoted by the International Nickel Company in the US. Their resistance to corrosion by many agents including rapidly flowing sea water, hot and cold working machinery and atmospheric corrosion boasted durability and promoted hygiene. Icon of mid-century design Frank Lloyd Wright famously used stainless steel in his personal kitchen in Arizona. A few studies claim that stainless steel has a "cockroach penetration rate" that is 1/8 that of wood.
I interviewed Randi to learn more about his hometown of Bologna, his love of motorbikes and his simple design philosophy.
You grew up in Bologna and your family is in the restaurant business. What was it like growing up?
Bologna has always been synonymous with good food and is home to some of the most famous dishes in the world; the Bolognese love their restaurants. Since I was a child, my mother managed pastry shops, bars and bistros and the people that worked there were a bit like my second family. Her vision was avant-garde for Italy, he taught me to always try to create something unconventional and out of the ordinary. All of my jobs growing up revolved around food-- from delivering piadina to washing dishes at my mother's restaurants. She now owns two Italian restaurants in Bologna.
Tell me about your business and your collaborators?
I founded my company in 2018 in Bologna after design school in Milan. Our focus is "Made in Italy'' products with simple lines and competitive prices. We have six people working in the studio to keep up with the demand for our first big project - the Very Simple Kitchen. This allows Federica and I some time to develop new ideas.
Last year I opened the Lidaloro guest house as a side project with my life partner. We plan to be fully operational by spring 2022, once the pandemic dust settles. Lidaloro's philosophy is very simple hospitality. We have renovated five apartments so far and we'd like to take over the rest and create a boutique hotel complete with a 'secret' restaurant inside the courtyard. We have a three year old named Romeo and we've designed it with children in mind as well.
What is Bologna in one sentence for you?
Bologna is culture, music, history, art and much more -- it cannot be told, it must be lived.
What are your favorite places?
Bologna is relatively small but it's easy to get lost while walking around the medieval streets and I love this about it. One of my favorite places to eat is 'Altro?' https://www.altrabologna.com/. It's inside one of the oldest markets in Bologna, the Mercato delle Erbe. It has a bucolic, convivial and no-frills atmosphere.
Our suppliers are in Emilia Romagna, Veneto and Le Marche. I know and enjoy exploring these regions in Italy the most.
Where have you received the most inspiration when traveling?
Traveling is one of my absolute favorite things. I have fond memories of when I was 21 years old and my friends and I drove a "junkyard" car from Bologna to Ulan Bator, the capital of Mongolia in the summer of 2009. I then flew to Australia and eventually flew back to Italy which was much safer than riding in that little Subaru Justy.
Who has inspired you the most in life?
My Nonno, my mother's father, was an artist and no doubt, inspired me. He married my Nonna who had a fashion boutique in Bologna. My other Nonno was a wine producer and a Millemiglia car driver from Romagna. Although I never knew him, he definitely instilled an appreciation for entrepreneurship. If I must pick one designer who I admire, it has to be Enzo Mari.
What do you do when you're not in the studio besides spending time with your family?
Riding off-road. Enduro riding is a passion of mine. I also like repairing and modifying vehicles of any kind which was my first interaction with steel. I'm extremely proud when I don't have to go to the mechanic for my car or bike. I'm not particularly good but it clears my mind and is a great escape from everyday life. I have 3 motorbikes now. Often I have a few more I keep around to tinker on. It was really normal to work on motorbikes as a kid growing up in Motor Valley, but we are likely the last generation of motorbike enthusiasts. I ride my 1991 Honda XRV rd04 to and from the studio.
Pictured: Randi's offroading bike; a Beta 450 enduro bike that he modified to look like a 1970s vintage enduro bike.