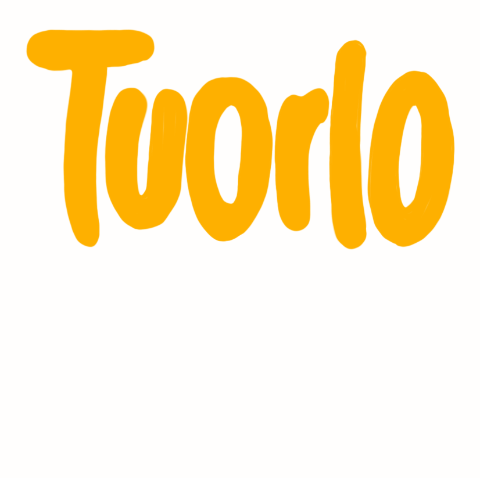 Madrid fusion 2021: The Sustainable Future of Gastronomy
Circular Gastronomy: A Theme for 2021. The value of nature and its gifts was at the core of the innovations showcased at the 2021 edition of Madrid Fusion.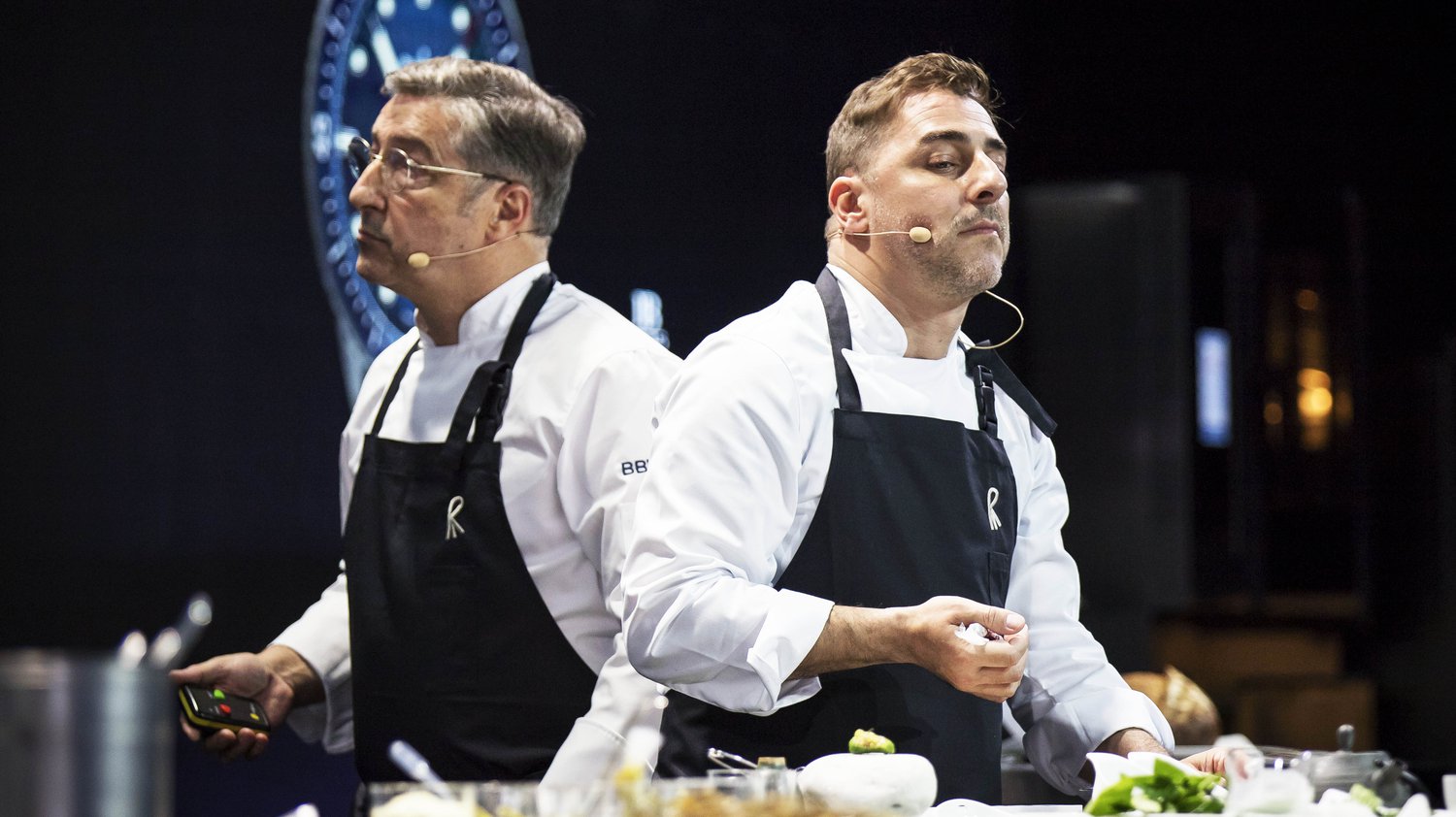 "Circular gastronomy' in all its different shapes and forms was presented at the conference by renowned Spanish and international chefs.
This concept focuses on the importance of the product and its origin, tracing its cultural heritage and putting farmers in the spotlight through deeper relationships with them.
This just goes to show that the famous, post-avant-garde manifesto that first appeared during the 14th edition of Madrid Fusion in 2016 was still fully relevant in the latest edition of the event.
Clearly, the time has come again to consolidate and discuss ideas and processes for sustainable development, concentrating on those that are implementable, innovative and emphatic.
As chef Enrique Olvera from the restaurant Pujol in Mexico City once put it "be the best restaurant for the world, rather than of the world." That is to say, there is becoming a clear necessity to be successful in an environmentally conscious way.
Running with the theme of the post-avant-garde manifesto is the idea of innovating using local, natural resources and thinking outside the box.
Continuing the Sustainability Revolution
Angel Leon, chef of Aponiente***(El Puerto de Santa Maria) brings mind-blowing innovations to Madrid Fusion every year. His latest creation has been the topic of much discussion.
He searched far and wide throughout the sea in order to find the unreservedly nutritious marina plant, Zostera. It has the potential to be cultivated without using fresh water, which is what makes Chef Angel see it as a product that could be the future of sustainable gastronomy.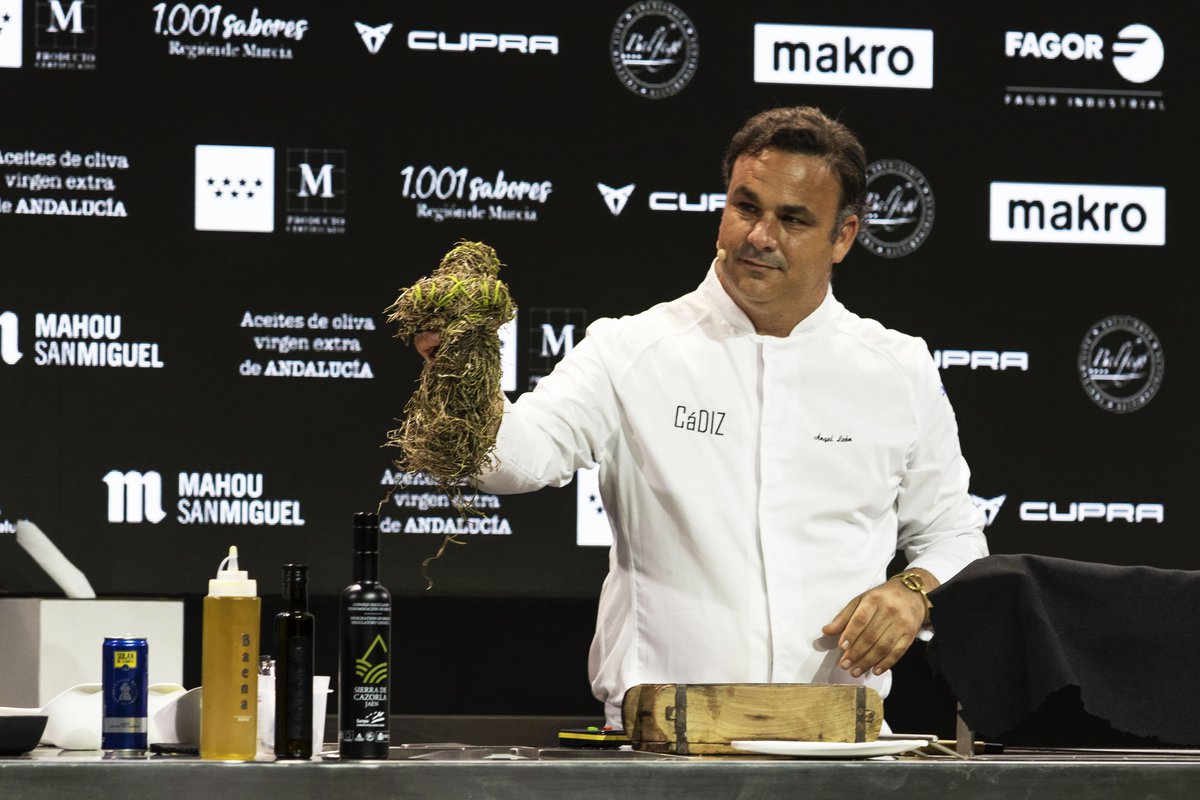 © MADRID FUSIÓN 2021
Within Aponiente, they are constantly playing with the boundaries, and one of their latest creations is a great example of that. Almadraba tuna belly is masterfully cured and transformed into a beautiful dish akin to Iberico ham. It is now served in their restaurant in Cadiz.
Davide Caranchini, is another chef pushing the boundaries of sustainable gastronomy. Chef of Materia* restaurant on Lake Como, he has been on a journey to challenge his mindset in recent months. Throughout lockdown he committed time to studying all aspects of the avant-garde, from art to literature to food. This has led him to an evolution of the avant-garde philosophy called 'Modern Thinking' which was what his presentation at Madrid Fusion was focused on, rather than any specific cooking technique.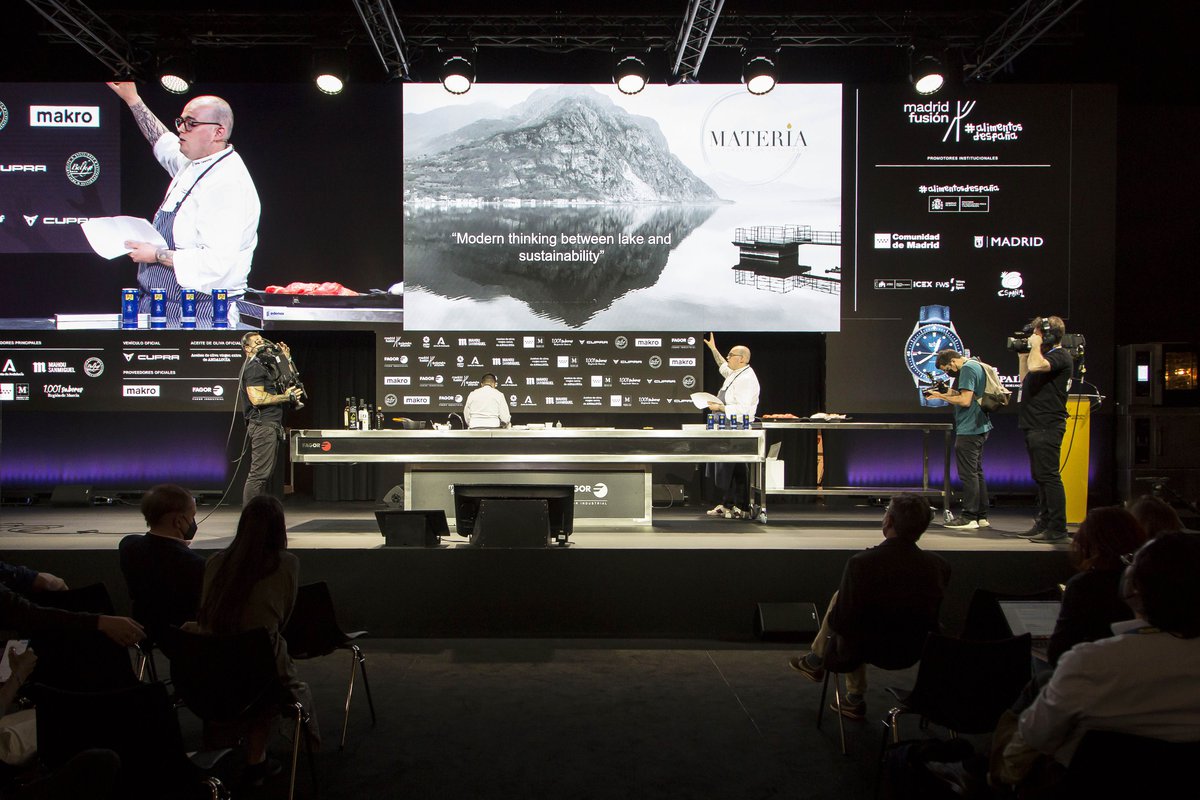 © MADRID FUSIÓN 2021
Chef has started pondering the question 'how can I pay homage to the land? How can I make the sustainable way of cooking creative and modern?'
Through a framework of sustainability, he highlighted the issue of 'people before ingredients'. That is, to give proper weight to economic sustainability, otherwise, the whole system will suffer.
This was an idea shared by other chefs who took to the stage.
Chef Björn Swanson, of Faelt* in Berlin, also applies the principles of sustainability to his restaurant's team. "Creating a good atmosphere and taking care of staff means people enjoy their jobs and want to stay. I depend on my people, and if they are happy, everything will taste good."
Josep Roca, the sommelier and front of house director at the restaurant El Celler de Can Roca*** (Girona) told us "Looking after the team is the best kind of investment a restaurant can make."
Similar ideas were also presented by the chef of Trippa (Milan), who encouraged the industry to speak more about the importance of human sustainability.
Chef Davide's five main pillars of 'circular gastronomy' include raw materials, knowledge, technique, ethics and sustainability. However, Davide is taking it one step further and adding three more pieces to the puzzle to frame it in a more modern context: unity of ideas (teamwork and travel), sensibility (heart, artisan skill) and thought.
Avant-garde is about the brain, he claims – it resides in the mind.
He transmits this thinking through the usually traditional Lake Como starter of antipasto misto di lago, by flipping it round to show a sequence of dishes made from different parts of one trout, instead of the classical medley of seafood.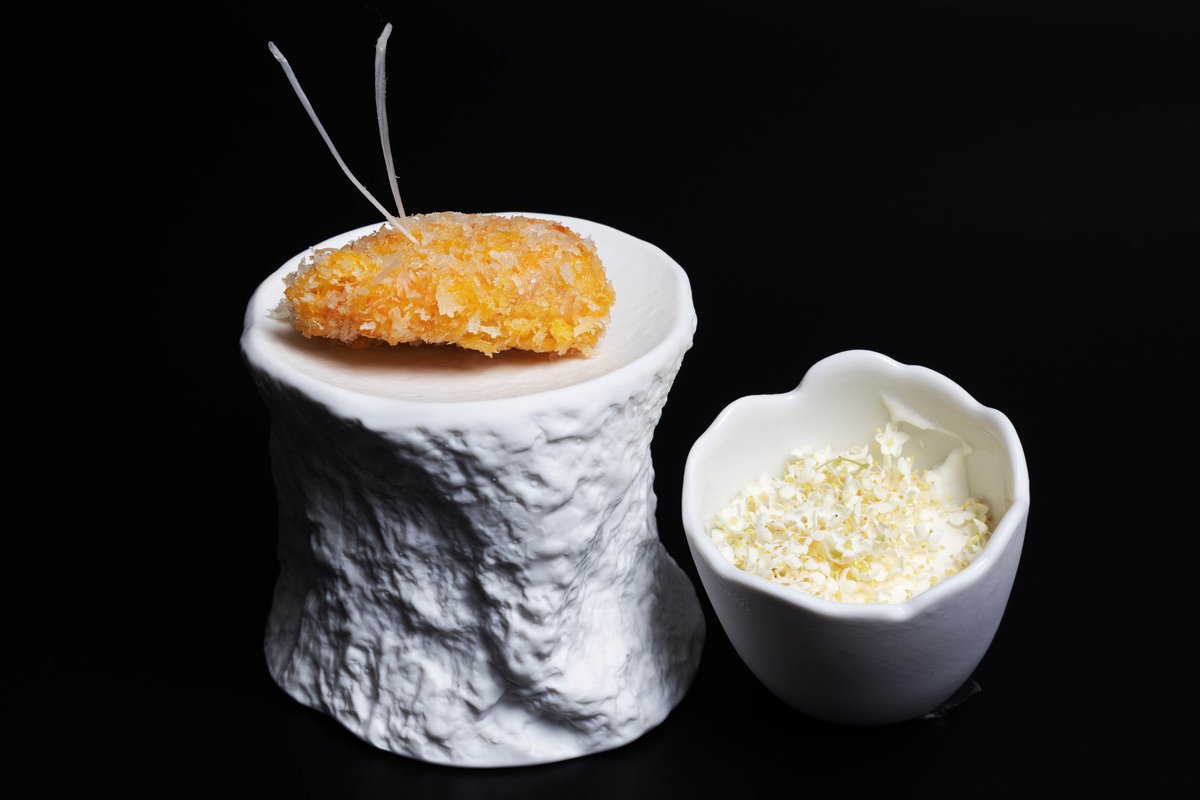 © MADRID FUSIÓN 2021
He concluded his talk on a philosophical note.
"Now that you see that journalists are talking about avant-garde, it seems like everyone does it – but I do not completely agree. So I stepped back to reflect on our processes at Materia and decided to reinvent everything we did before."
Recently re-opened Materia is a reflection of Chef Davide's view on what avant-garde means today. Before his food was seen as a revolution, so he has aptly named this new stage 'Revolution Evolution'.
He explains that his new dishes might not be playing on the extremes of flavours and acidic notes, but will be based on the intense research and thought behind the dish instead. That you will eat the dish and understand that it is something that breaks the rules.
Nature's Gifts: The Impact of Vegetables
Taking nature's gifts to craft a new class of gastronomy is a clear motif of this year's topic of 'circular gastronomy'.
For ten years, chef Richard Camarena of the restaurant Richard Camarena** (Valencia), has been an activist, promoting vegetables as food for the future. In his case, he focused on local varieties of vegetables. He sees the advantage in fully understanding the 'DNA' of the vegetable and how it changes over its lifecycle. He avoids bias from previous research and experience within the vegetable garden.
One such case is that of overripe kohlrabi, found in his garden after lockdown, two months after it had reached peak ripeness. This extra state of maturation came as a revelation of new product characteristics – a signal that there was an opportunity to widen his horizons and once again, learn. Chef Richard cooked it as if it was a fine piece of meat, then peeled, sliced and confited it with duck fat – it was such a success that it has now found its way into a leading role on his restaurant's menu.
Before him, Flyn McGarry, a wunderkind who opened his restaurant in New York at just 19, shared a similar approach.
"Why do we think of the vegetable as a side dish? For me, it is so much more interesting and fun to eat the cabbage and morel mushroom schnitzel. Most of our food is focused on fruits, vegetables and plants from the sea. We use meat and fish to enhance the vegetables."
Juan Martínez is a young Venezuelan chef and owner of the Merito restaurant in Lima's vibrant district of Barranco, which has been ranked number 37 on Latin America's 50 Best Restaurants list.
His previous work as head chef of the prominent restaurant 'Central' in Lima deeply connected him with the idea of the importance of land and ingredients and has been a strong inspiration for him. It has also served as a starting point in his own exploration of the vibrant and numerous varieties of Peruvian tubers, of which there are over three thousand.
He brought his fascinating techniques, based on his existing knowledge and desire to help others understand the beauty of the tubers, to Madrid. The principle of his work is to recreate well-known dishes, such as tacos, quesadillas, ravioli and kebabs, amongst others, using tubers as the base. Through the realisation that these starchy native potatoes are complex if you did not grow up with them, chef Juan set out to make them more familiar and palatable to those not from the region.
His quesadilla is looking exactly like a traditional one but recreated from the use of a yucca. In the same way, his elegant crispy gyoza is made from elaborate thin layers of potato that he stuffs with a traditional 'carapulcra' filling, made from potatoes, pork and chili.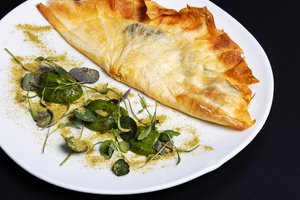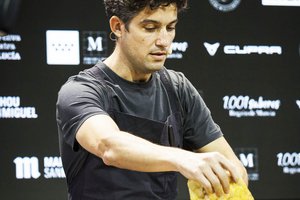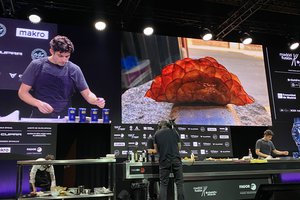 Bringing attention to local varieties of vegetables was also the topic of chef Pablo González Conejero's talk. He collaborates with the Agricultural Institute to recover varieties of native fruits and vegetables that had disappeared decades ago.
Juan Sebastián Pérez, the chef of the restaurant Quito, became the first Ecuadorian chef to step on stage at Madrid Fusion. Chef Juan Sebastián is another chef concerned with bringing back native varieties that he considers to be an essential part of the new wave of Ecuadorian cuisine. His dish showcased this perfectly: a cake made from the native black potatoes of Ecuador, with white cocoa (macambo) and a pesto that includes a variety of beetles known for their high energy potential.
Farm to Table: The Farmers who make it Possible
Praising farmers as an essential part of the restaurant was a key message brought to Madrid Fusion by Eneko Atxa, chef of the Most Sustainable Restaurant in the World in 2018, Azurmendi***(Larrabetzu). Chef Eneko Atxa cherishes his close work with the "people who bring nature to the Azurmendi table" and demonstrated his gratitude through video portraits of the farmers he works with. This included corn from the gold searcher Luis Azillona, peppers and purple onions from Ana Mari and Guillermo and his garden peas, to name a few.
Chef Eneko Atxa presented an odyssey of eight dishes with each one shining the spotlight on a single farmer's ingredient. He started with the recovered red grape variety 'Txacoli', from the Basque country, which he has implemented into a new snack, 'Martini Rose', an elegant rose-shaped jelly with rose petals.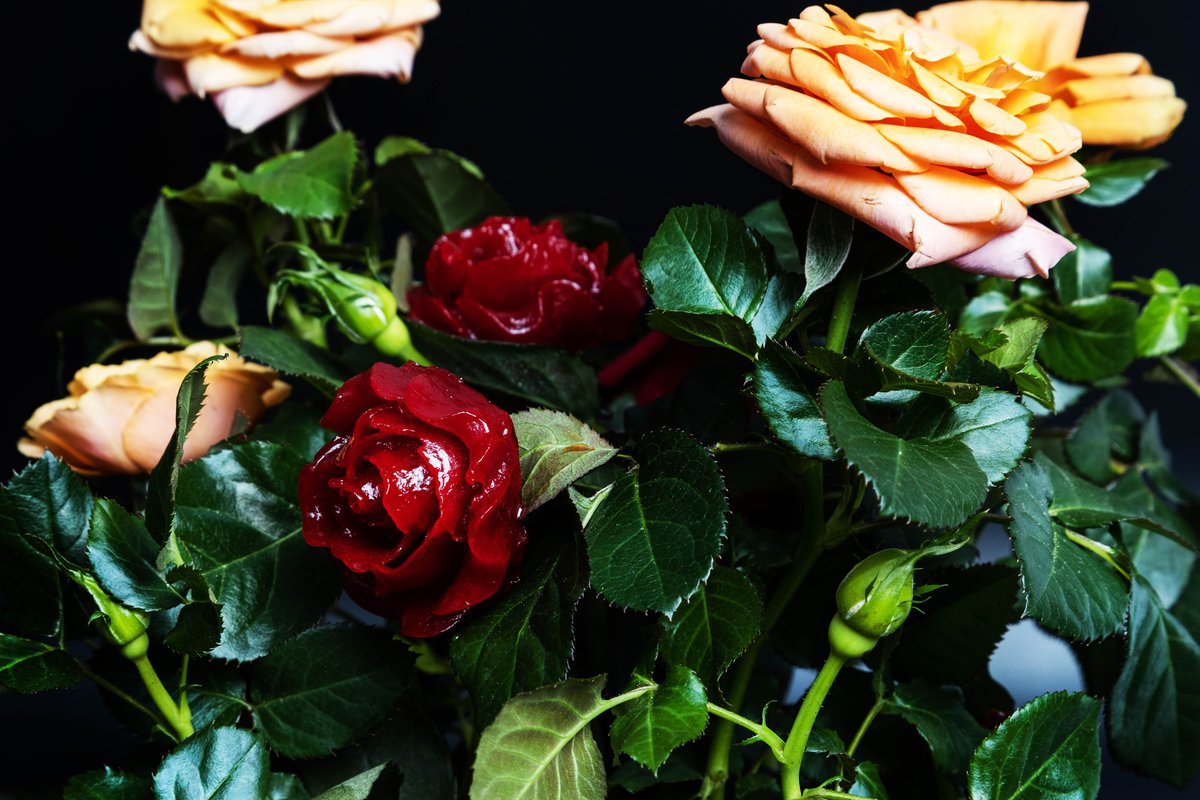 © MADRID FUSIÓN 2021
Another dish used the farmer's eggs to make a long lasting bite with cured egg yolks and mushrooms.
Additionally, Chef Eneko Atxa presented a super intense bite that he created with Guillermo's teardrop garden peas. Guillermo harvests the peas early on to allow them to get the desired intensity of taste.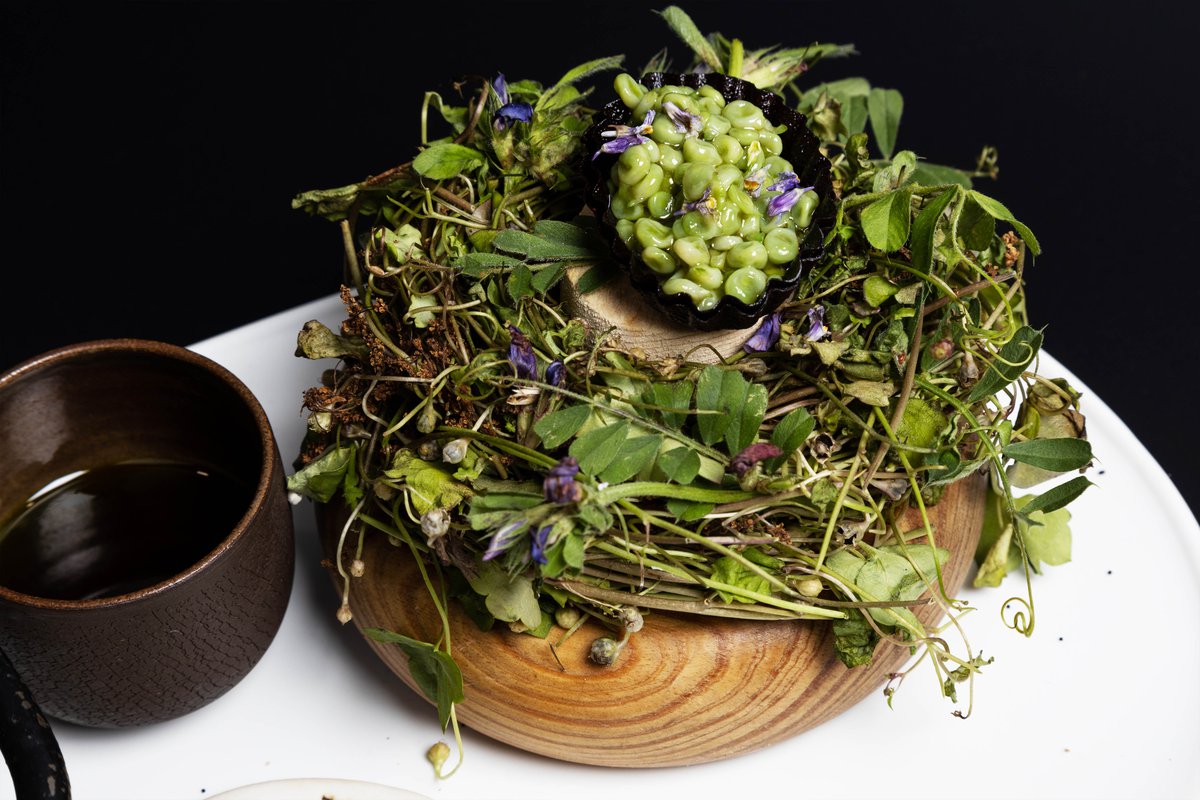 © MADRID FUSIÓN 2021
Chef Eneko Atxa then presented one of the most important sauces in Basque cuisine – the 'vizcaína' sauce. His version, 'Piece of us', was a bite served on a small wooden spoon using the purple onions from Ana Mari.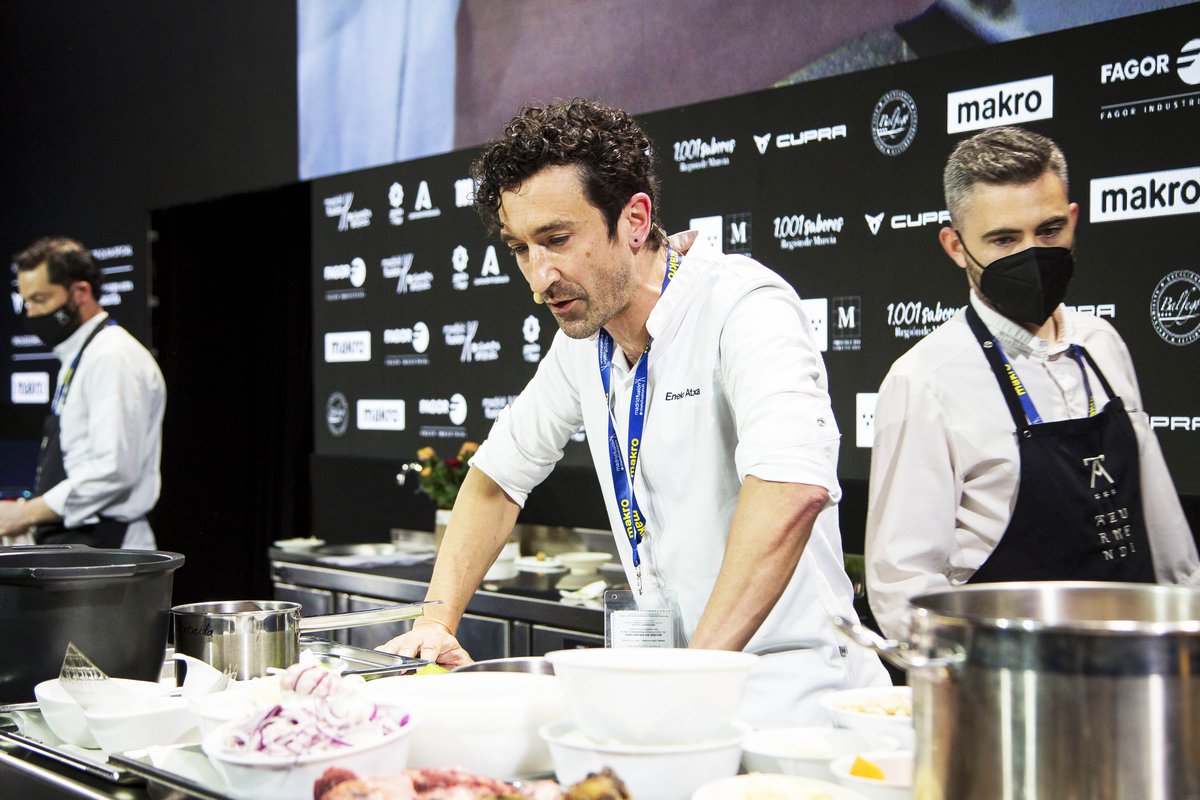 © MADRID FUSIÓN 2021
Another star dish used the flowers from Azurmendi's own greenhouse to infuse sheep's milk curd. "It smells like the honey you would get for breakfast," he claimed.
Chef Eneko Atxa concluded his tribute to farmers saying that working with them comes naturally. He is advocating for sustainability without being radical, but rather by being flexible and rational. "During the pandemic, the restaurant sector has suffered, but so have the producers. Recently Frantzén's restaurant team asked me about our peas and I shared the contact of our supplier with them. Thanks to this, he has been able to sell more of his produce. So, let's not fall into radicalism, things don't always have to remain the same, but let's be coherent."
Commitment to Sustainability: What Comes Next?
Andoni Luis Aduriz, the chef of the legendary creative temple in the Basque country, Mugaritz** (Renteria), sees the world differently. He says he wants "to see what happened to us an opportunity to see the world as if we were seeing it for the first time."
This breeds constant conceptual rethinking and questions. What is the next new luxury? "Borage, a maritime herb which has to be cut at the very last minute for it to work properly. Isn't that what luxury is? The answer is in nature and the creative process that makes it into a fine dining dish. "
Chef Andoni Luis's latest novelty follows his obsession with textures. A baby squid meringue offers an intersection between liquid and solid – a whole new texture.
The Spanish creative gurus Eduard Xatruch and Oriol Castro from one of the most disciplined kitchens in Barcelona, Disfrutar**, went one step further and challenged the very concept of an essential part of any meal – the dining table.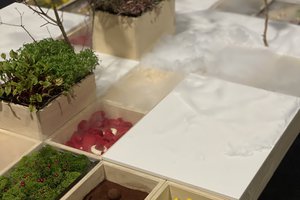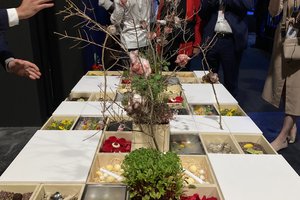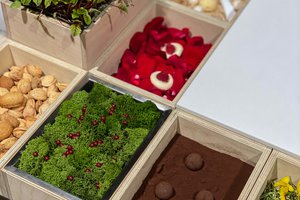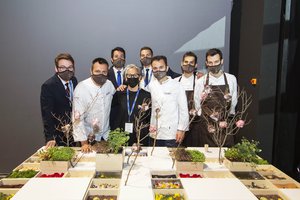 They managed to add a sense of curiosity and emotion to it. At the culmination of dinner, the table is transformed into an immersive experience. You are able to choose an itinerary based on revealing petit fours hidden inside the table's boxes, which are surrounded by natural decorative elements.
The main part of the meal also brought great excitement: olive oil and butter, foie gras and Ibérico ham turned into a frozen bubble of aerated fats with a magical lightweight texture. Their boundary breaking meal continued with the presentation of wine with the alcohol removed using a Girovap machine. Those who tried it could not believe it didn't have alcohol in it.
Joan Roca, head chef of El Celler de Can Roca, a restaurant that has been building its sustainable ecosystem for almost 10 years, revealed his commitment to sustainability that encompasses every part of the restaurant. From logistics to waste and water management, even down to management and training programs.
'RopaRecicla' is a recent initiative that has seen all of the restaurant's employees dressed in jackets, aprons, t-shirts, blazers, trousers and masks, made from recycled cotton and plastic.
Chef Joan also revealed his culinary inventions, showing the extraordinary flavour he discovered in the leaves of bell pepper. He used them like tea leaves to create an improvised tea ceremony. Additionally, he showed off a soufflé made from the foam generated from cooking down potato peels.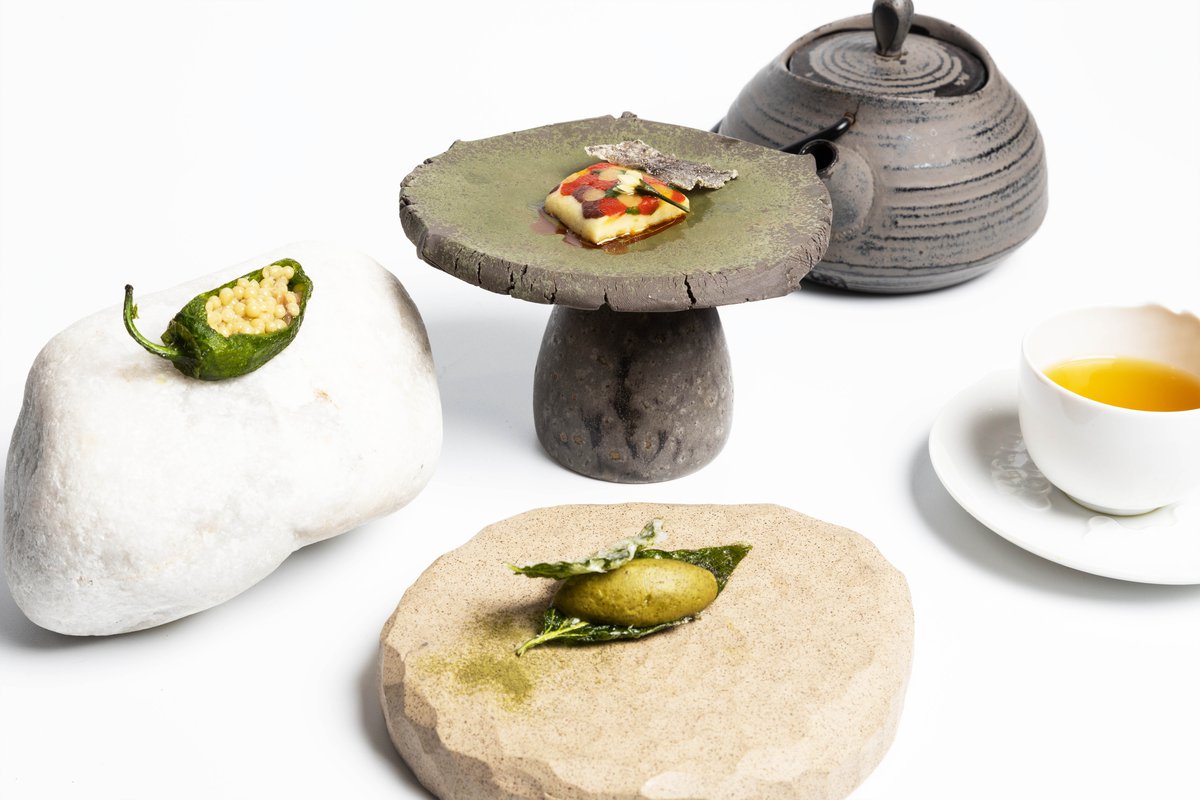 © MADRID FUSIÓN 2021
Jordi Roca, one of the leading pastry chefs in the world, demonstrated how he converts leftover sourdough bread into a honey-like sauce to use in desserts. The magic of El Celler de Can Roca was fully showcased as Chef Jordi finished his speech showing off the curious case of an edible, flying, chocolate cloud.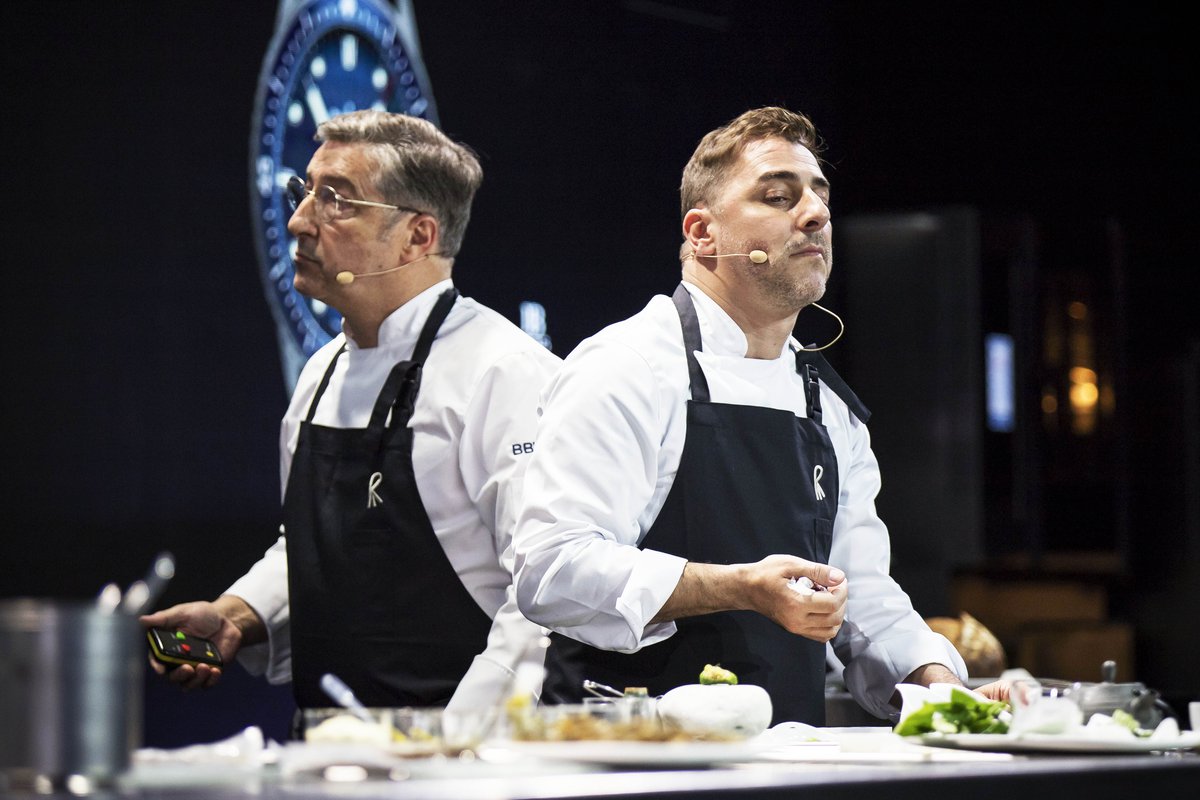 © MADRID FUSIÓN 2021
Madrid Fusion 2021, originally postponed from January, showed us the continued importance of collaborating with nature and playing with the simple vegetable to create new innovations. One thing was clear: after a turbulent year, everyone involved showed a great commitment and desire to getting the industry restarted.