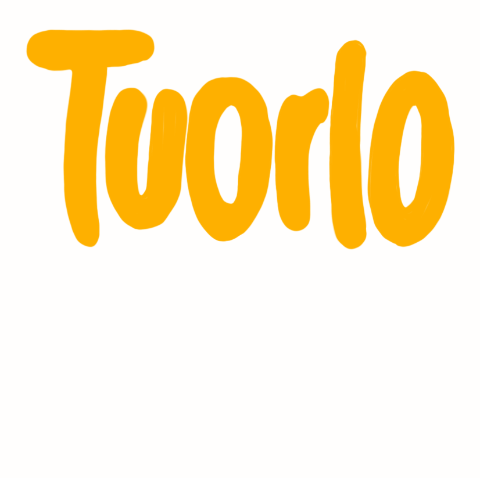 Ukraine
Pavlo Servetnyk - I am not a soldier, I am a baker.
Right from the first day of war, Pavlo Servetnyk has decided to help people by doing what he knows how to do best - baking bread.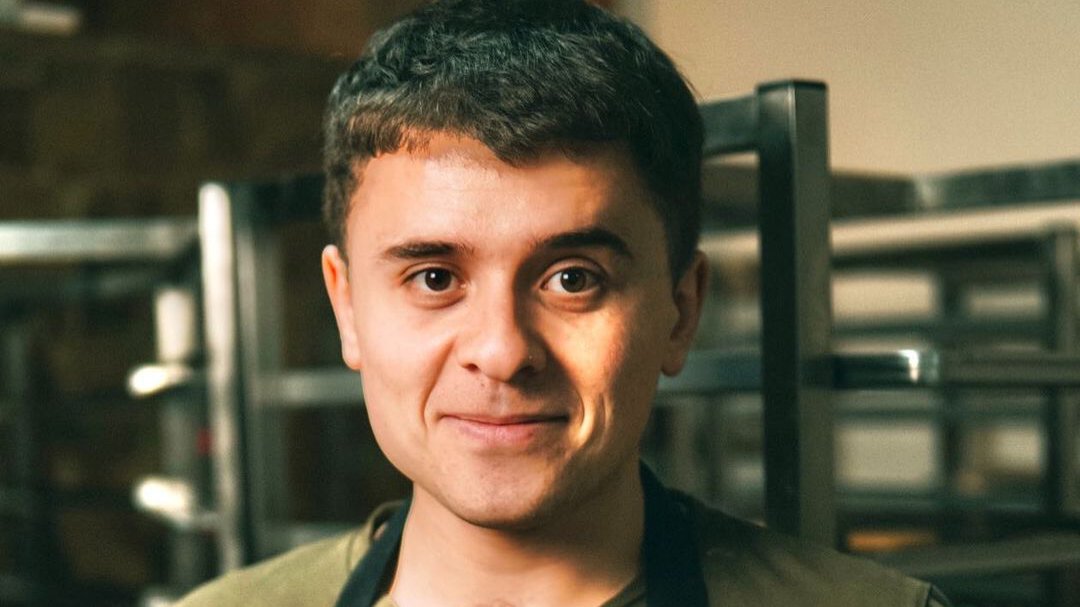 Kherson happens to be one of the cities besieged by the Russian military in Ukraine. According to the recent reports, it has begun to experience food shortages with evidently empty shelves, while locals, unless they are doctors or volunteers; panicky leave their homes. There are buses running through the city until three o'clock in the afternoon. From time to time, citizens hear shooting and explosions.
Some cafes give out hot meals. The mayor of Kherson every day in his Telegram channel urges entrepreneurs to go to work, to revitalize the city.
In the meantime, Kherson residents seek to help each other, city's chefs feed local medics, and those in need.
Pavlo Servetnyk might not have been an hero with gun, but he is been an hero within the means he has – baking.
Pavlo Servetnyk, winner of Ukrainian "MasterChef. Professionals". Before getting in to cooking, he played music, did sports, art, and graduated as a computer programmer. At the age of 23, he decided to try himself in the MasterChef show, that surprisingly for him, ended up him winning it with some bounteous money award that he spent entirely on travelling the world's best kitchens for stage. Among them is the el Celler de Can Roca in Spain and Gaggan Anand in Bangkok.
During lockdown, he found his way to baking bread. He felt the necessity to start doing anything while the restaurants were forced to close.
In just about five-month post lockdown, he had managed to open two bakeshops in Kherson.
Right from the first day of these appalling events, Pavlo Servetnyk has decided to help people by doing what he knows how to do best. He has made bread free for everyone who comes to his shop.
While in his hometown on the 24th of February, at around 5.45 in the morning, he had the news from his manager saying, "Pasha, the war has started".
"I wasn't thinking clearly, I remembered that our manager was rushing to go back home to his relatives. Then I woke up, checked social media and I affirmed what he told me. The window in my room is looking in the Crimea direction, and I saw a solid pillar of smoke, then I called my father, who said it was a military facility in Novaya Kahovka. I immediately called my friend from there, who said this place is now totally destroyed.
It was that point I realized the war had started"
The first day he remembers as "total madness", his parents refused leaving their homes to a safer place, they believed in "peaceful and quick development of situation". Then he decided to stay in the city as well, with his wife and shop, filled with products that were not delivered that day.
On reaching the shop, he noticed unprecedented lines of people waiting for bread.
"That day people didn't go to work, the city was in panic, the bread factory didn't work as well, none of the shops opened. I understood what the bread people were waiting for would never arrive. I'm not a soldier, I'm a baker, and that's what I decided to do."
He moved to the shop that has a spacious basement, to be safer and be able to work full time.
The first night the teams of five started baking until two in the morning, sleeping on hard kitchen tables.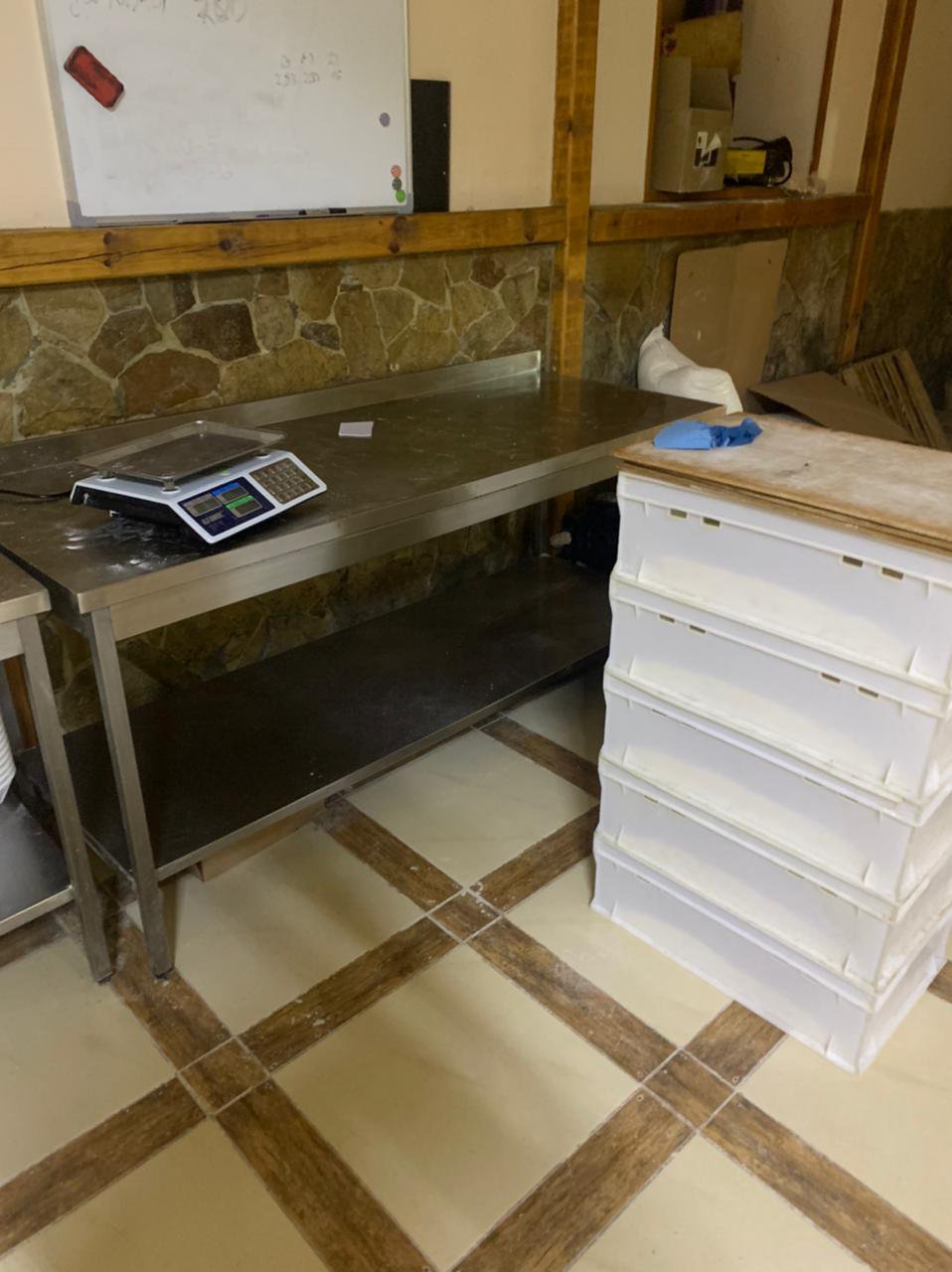 the kitchen table in Servetnyk's bakery
In between the continuous sounds of shooting and bombing, he was making around 1000 loaves the following nights, people came to help with donating salt and flour, as Pavel was documenting his work on social media.
«After a while I noticed that even making 1500 items was not enough, all loaves were sold out immediately. Why is it happening now? »
During peaceful times, the bread to Kherson was delivered from three factories; from Kyiv, Nikolaev, and the local one. All of the three were not active anymore. Pavel had an idea to maximize the amount of bread by involving the local factory.
He managed to raise sufficient funds through instagram to be able to start the production on the bigger scale.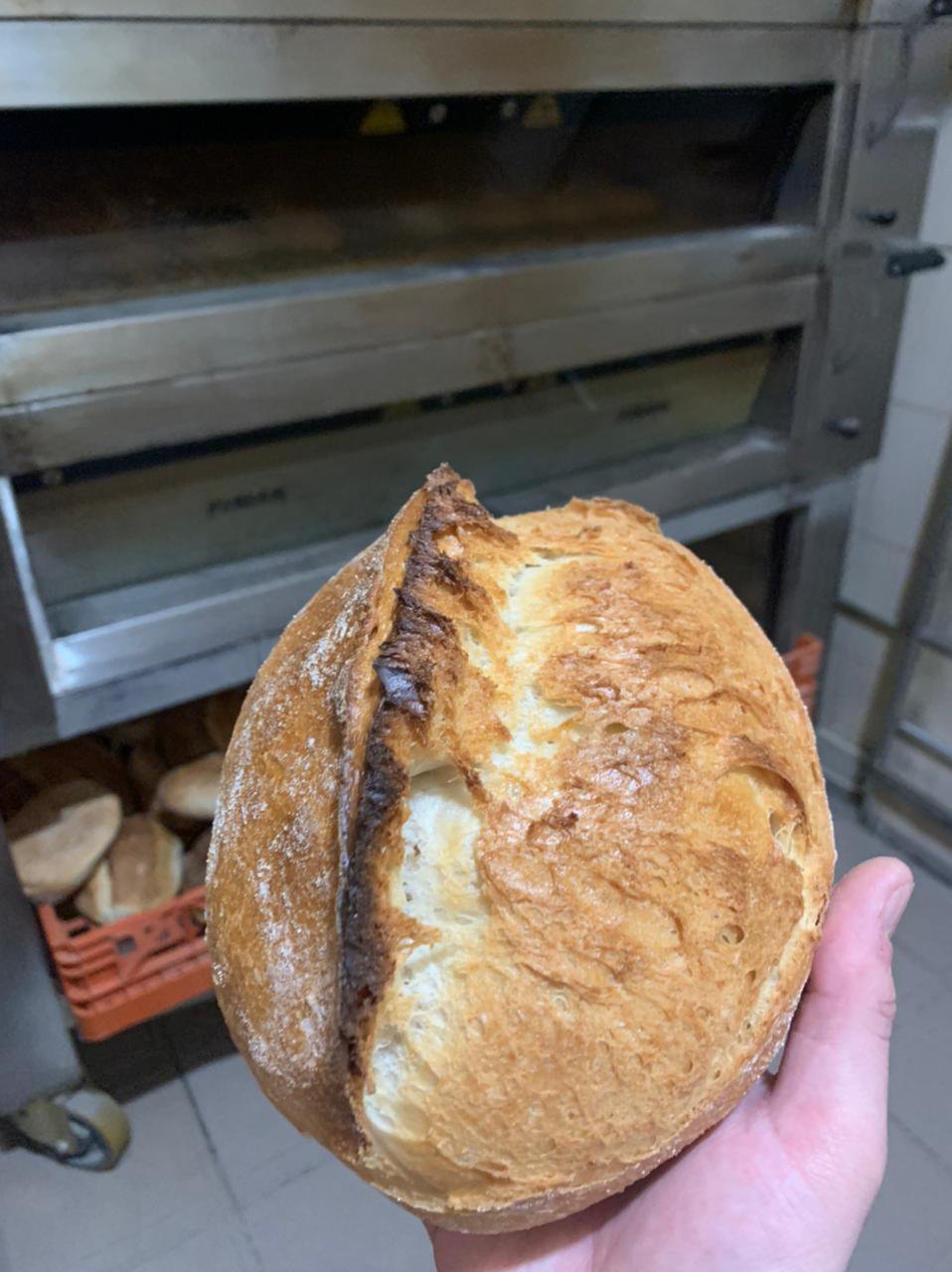 Along with funds, he collected 100 tons of grains and 4 tons of yeast from a local businessperson who wanted to help. Soon after around 65000 loaves were given out to the people of Kherson.
Along with funding the production of the bread in the local factory, he continue the work on his own, using the donated yeast and flours and using simplified recipes.
«There are two kinds of people-the ones like me and others. I do not look for profit within war. Other types of people try to benefit from these horrible events, some restaurants have frozen the remaining products and when they reopened, they were selling all this food with the same price. They chose profits over the humanitarian way, I could't do that. I remain the only one in the city who's active with bread supply in the city and I understand that if not me, there's no one who can do that for the people.»
«It's an evident food shortage in the city; the major food supply does not always reach the city, its challenging findingkinf ingredients. We are surviving here because people are very kind. This morning, someone shared some patrol with me and in my shop people are working for free. »
The situation in Kherson remains tensed; the majority of people are afraid to come out of their homes, some stay in queues for food.
«I heard one story when my friend came home and found the door opened, he noticed there was no borsht in the kitchen, prepared beforehand. Near that house there was a sol guard post, he came there to ask then to return the pot and they've returned it.»