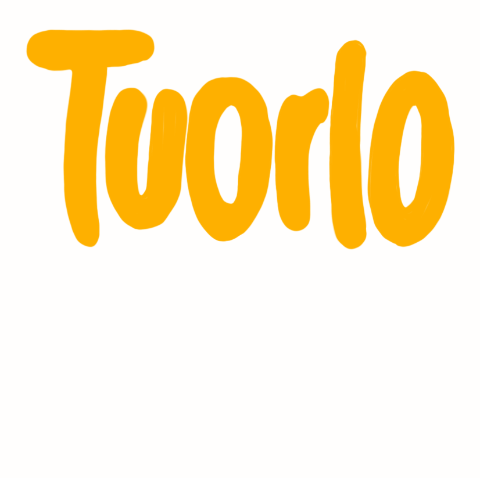 Lifestyle
"Sentience": evoking our feelings and sensations without boundaries at the dinner table.
The multi-sensory dinner installation has taken place in the magnificent Numeroventi space in Florence.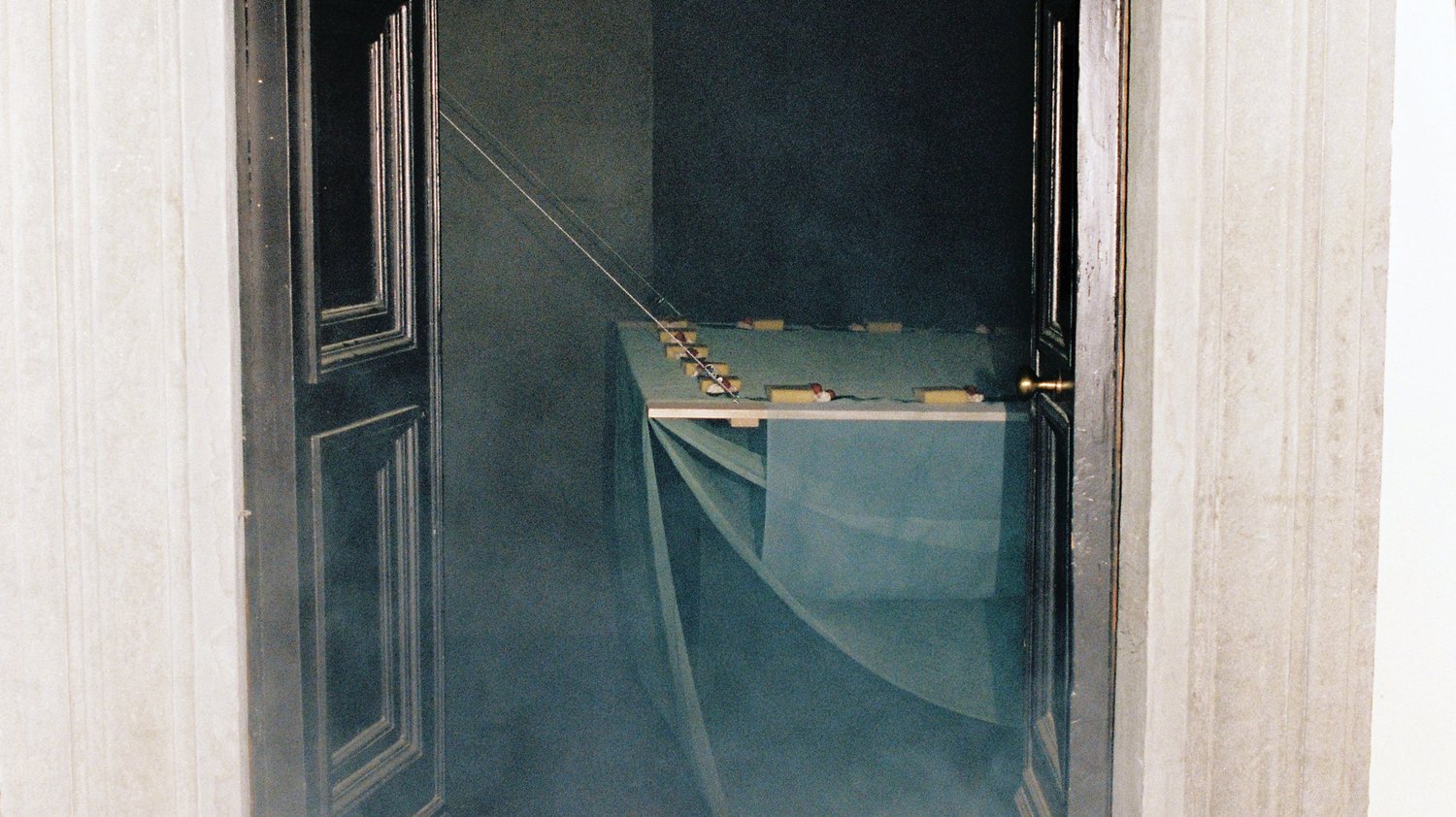 What a delight to witness how the multi-sensory dining experience evolves amongst the antique marble statues under the open night sky at the 15th-century Palazzo Tassi Galli central courtyard. A special night, probably the hottest one this summer in Florence. The mysterious open-air communal pre-dinner table awaits. After rediscovering the ancient art of hand-washing at the well, the main dinner is then served in this magnificent al-fresco setting, gracefully hidden by wide pink and blue ribbons that rise up into the air, then fall to drape across the stone floor. We witness the complexity and ease of human interactions at the candlelit dinner table. We will then gather together in a tiny dimly lit room, shrouded in mist; there is the centerpiece, a suspended dessert table, towards which friendly strangers gravitate, to enjoy this final treat.
"Sentience" is the multi-sensory dining experience born in the mind of Elena Petrossian, the co-founder of Ananas Ananas, a food-art studio based in Los Angeles. Elena was born and raised in Los Angeles in an Armenian family as a first-generation American. She was raised surrounded by traditional family values, with a strong connection to the kitchen and food. For this special dinner exhibition, she embodies a mysterious environment that communicates "the darkest depths of our psyche to the highest parts of our light within". The dinner exhibition is a one-night journey aimed to evoke our capacity to experience feelings and sensations without boundaries, without hiding ourselves and our emotions. For Elena, as an artist, it was essential to allow the guests to enter her most vulnerable state. To share her lightness, yet also the darkness, to serve the food that brings back thoughts of times of comfort and celebration at home, to ground us all with our own reflection, to then make us rise high at the final accord.
Ananas Ananas studio creates temporary edible installations and dining experiences that involve multi-sensory interaction with food. Starting with small installations in Mexico City, the studio now operates around the world, and for the first time, it has landed in Florence, in the opulent space of Numeroventi. Numeroventi is an artists' residence that has housed creative talent since 2016. Both novice and established artists come here to create and interact with this unique and inspiring space that is truly reminiscent of the Renaissance era, with the centuries-old frescos, large windows, and original wooden entrance doors. This beautiful classical setting is accentuated by the stunning sculptures, a style that is masterfully fused with modern Scandinavian lightness.
We met up with Elena, right after her multi-sensory dinner 'Sentience', to learn more about the creative process behind food installations, the strong presence of female artists in this niche, and how her studio implements sustainable practices within her work.
Tell us more about your background
I was born and raised in Los Angeles in an Armenian family as a first-generation American. Because of that, I was always surrounded by traditional family values related to the kitchen and food. Tables were always full, with an abundance of dishes, so much so that there would be soda cans stacked on top of each other as pedestals to make room for the extra plates coming out from the kitchen. Stories were often shared from the previous generation about 'back then', along with a toast from each family member every few minutes, filled with thanks, well wishes, gratitude, moments of silence, laughter, arguments, and sometimes tears. The vast emotional roller coasters that took place around the table were fascinating.
What was it about being surrounded by food that made everyone feel so emotional?
This mysterious force is what drives my work and why I aim to create these immersive spaces that bring our emotions to the surface and lay them out on the table.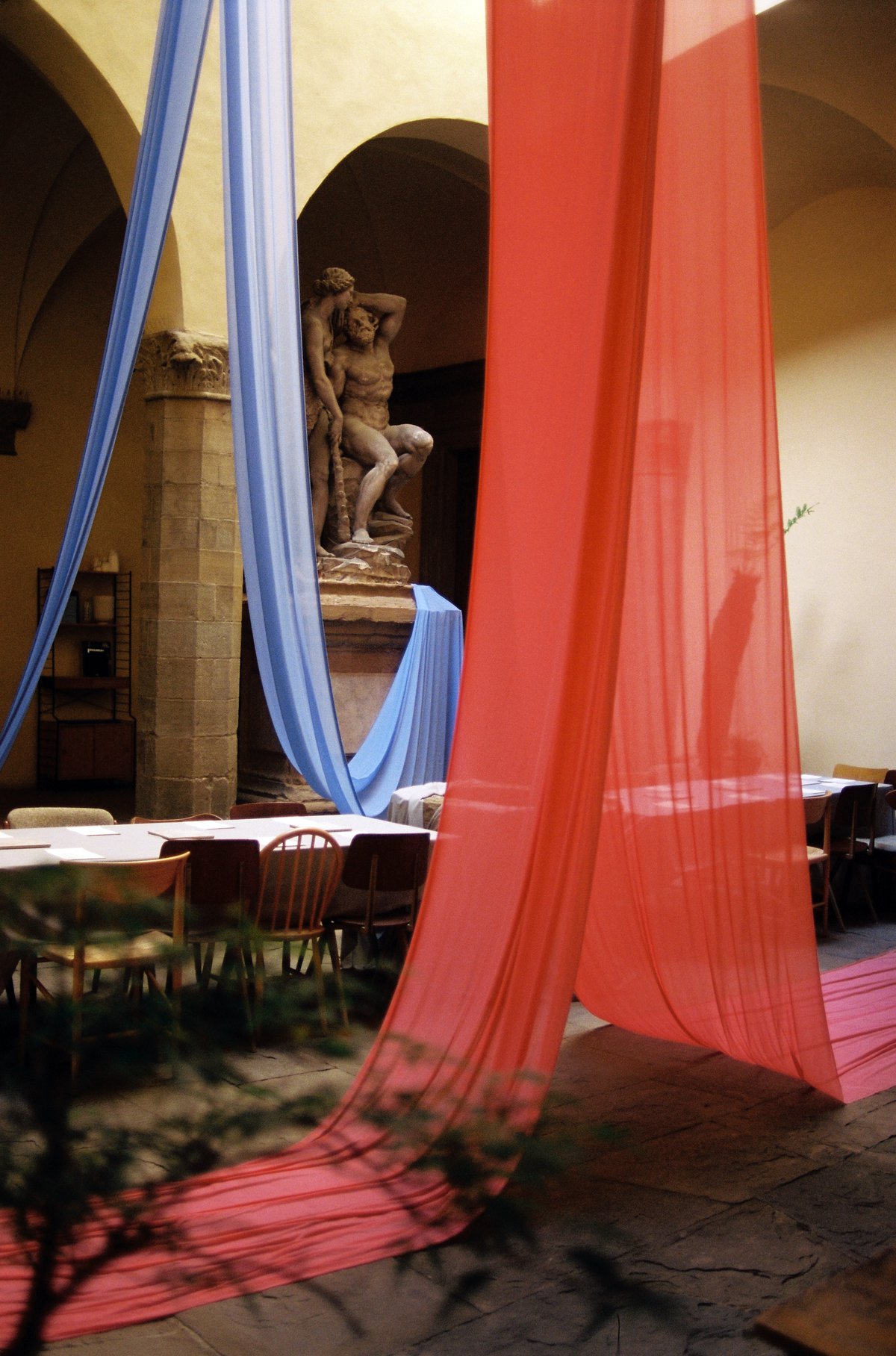 Pia Riverola
Please elaborate on the meaning of the dishes chosen for the event and their connection with your family history.
Each dish represented a version of what I would eat in times I needed comfort and in times of celebration. The first course was watermelon with feta and olives which is the ultimate Armenian coffee table staple dish when you have guests over. It's refreshing enough on a hot summer day, but not filling or too sweet to spoil your appetite for what's to come next. The second dish was a saffron-marinated chicken with vegetable dolma. If I'm traveling for a while and feel homesick, it's the first thing I crave because it feels like a warm hug in the form of food. The third course was a cold yogurt soup. I love this because it's a very simple and easy dish to make, but so powerful. It's something my grandmother used to have in the summer as a child in Iran and it was a common dish amongst families who didn't have much and grew up in poverty. This was what they would mix together and eat to cool themselves down. It really speaks about the beauty of leading a simple life, how humans don't need much to survive and to see beauty in the most elementary things. This dish always grounds me because of the story connected to it. I had installed a floating table in a different room, and so to close the dinner, I guided everyone there for the last course which was an olive oil cake with strawberry jam and ricotta. The smokey room, with the mint and light blue fabric on a floating table, was a representation of the calm and relief we feel after going through tough times. The feeling of almost levitating out of your body after a good cry. Additionally, no tableware or utensils were used for this dinner, instead, I encouraged everyone to eat with their hands to be able to connect directly with what they are eating. I had found some beautiful old tiles in the Numeroventi space and decided to use those to hold the food, in order to bring an element of the space onto the table. To begin the dinner, guests were asked to wash their hands with lemon and warm water in the water well that sits in the middle of the courtyard.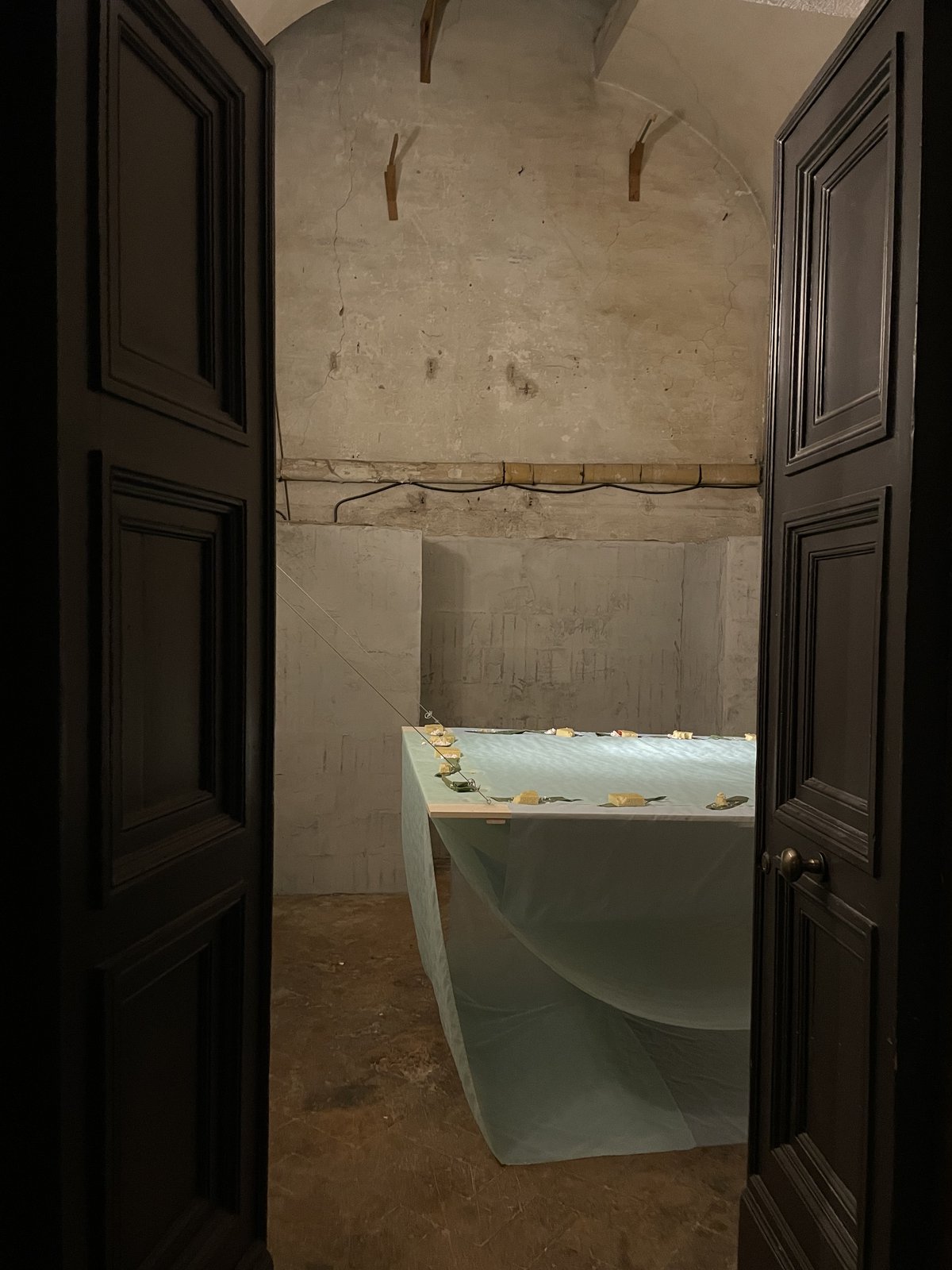 smokey room with the floating table credit:Pia Riverola
Please share a few words about the 'Sentience' concept. How did you come up with this idea?
I came up with this concept because I've spent a lot of time learning about myself, the ups, the downs, the lightness, the darkness. What I've come to understand is that not only are all those waves of emotion necessary and we must move through them to deepen our understanding of our consciousness, but also, if we acknowledge and become present with all our emotions, we are able to be more accepting. Not only of others but of ourselves in our truest essence. Self-improvement is a never-ending journey, and with this experience I created a mystical environment that communicated the darkest depths of our psyche to the highest parts of our light within. Walking into a portal and into my imagination, my most vulnerable state, and sharing it to impact others in a multi-sensorial way. Being able to eat the artwork and take it home, and sit with the thought that this cherished and shared piece of the artist now lives within the participants. The word 'sentience' is also such a powerful word that says so much.
Why do you think women are so prominent in the food installation sphere?
I think this niche food-creative industry is predominantly women because we've taken the seriousness out of what the food industry is known for, and have created a very playful and unconventional approach. A lot of us aren't professionally trained chefs, rather we're designers and artists who instinctively cook with our hearts, and want to share it in an artistic way.
We're breaking down these 'limiting belief' walls that have been placed around what it means to be able to cook for others as a career, that you need to have certain training and do things a certain linear way in order to be successful. Women are more intuitional, more in touch with themselves, and I think now, more than ever, it is the era of women and we're choosing to celebrate ourselves, unafraid of breaking the normal trajectory of things even if it is something as (paradoxically) simple as designing food installations.
How do you implement sustainable practices within your work?
As Ananas Ananas grows a larger audience we have a present responsibility to design installations that reevaluate the downfalls of our food production system and seek to come up with meaningful actions against food waste. Representing sustainability in a creative and innovative way that communicates to the masses. Here are ways we keep up the commitment on our end:
Before Events: Proposing menus that utilise only seasonal and locally grown produce, using fermentation techniques to preserve and prolong ingredients, zero food waste practices using the whole product (seeds, peels, stems, etc.), shopping directly from small-scale sustainable farming and agriculture suppliers, working with a sommelier that ensures small run natural wines from sustainably grown organic grapes.
During Events: No disposable utensils, food containers, or tableware. As alternatives, we use elements from the earth such as leaves, corn husks, and reusable fabric for these purposes.
After Events: We practice preserving any leftover food in a safe and clean state to be donated to a shelter. Whatever we can't donate will be composted. The art studio is deeply committed to rethinking food production systems and highlighting real, meaningful actions against food waste. While deconstructing the fine dining space, the duo seeks to connect and immerse the audience in the food they eat, on an individual and a collective level.