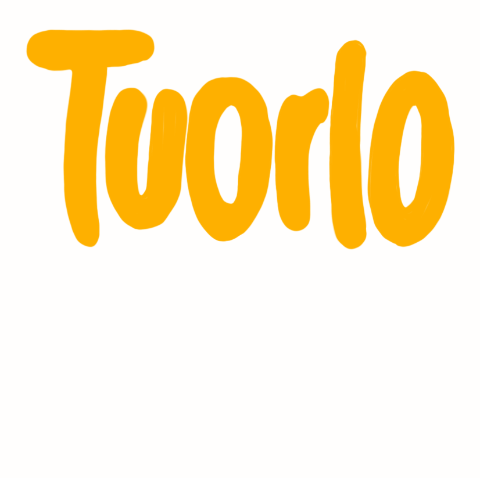 Food
Coming back to the roots and dreams: Geranium has presented its new menu, and there is no meat from now on.
Last year, the Geranium restaurant stated that, after 11 years in business, it would change its menu so that no meat or meat products would be offered in the future; instead, it would be focusing solely on plant-based and seafood cuisine.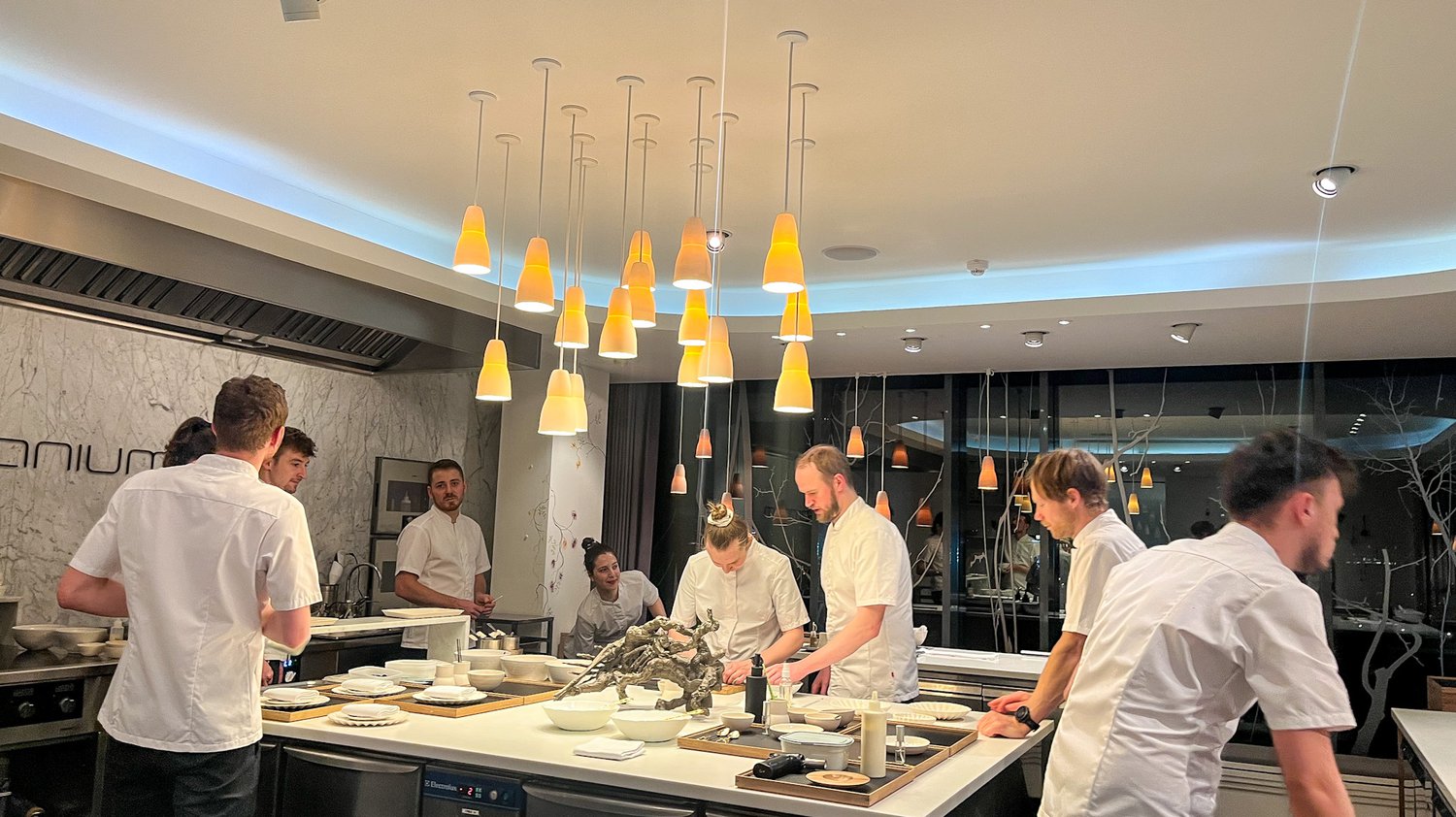 The man of the future will approach plants that are of use to him consciously; not as now when he reflects on which yield the best substances for his body; he will then have a vital relationship to every plant, for he will know what it is they have absorbed, and what passes from them to him. Eating will not be to him a mean occupation, but an act consummated with soul and spirit, for he will know that everything he eats is the external form of something spiritual. - Rudolf Steiner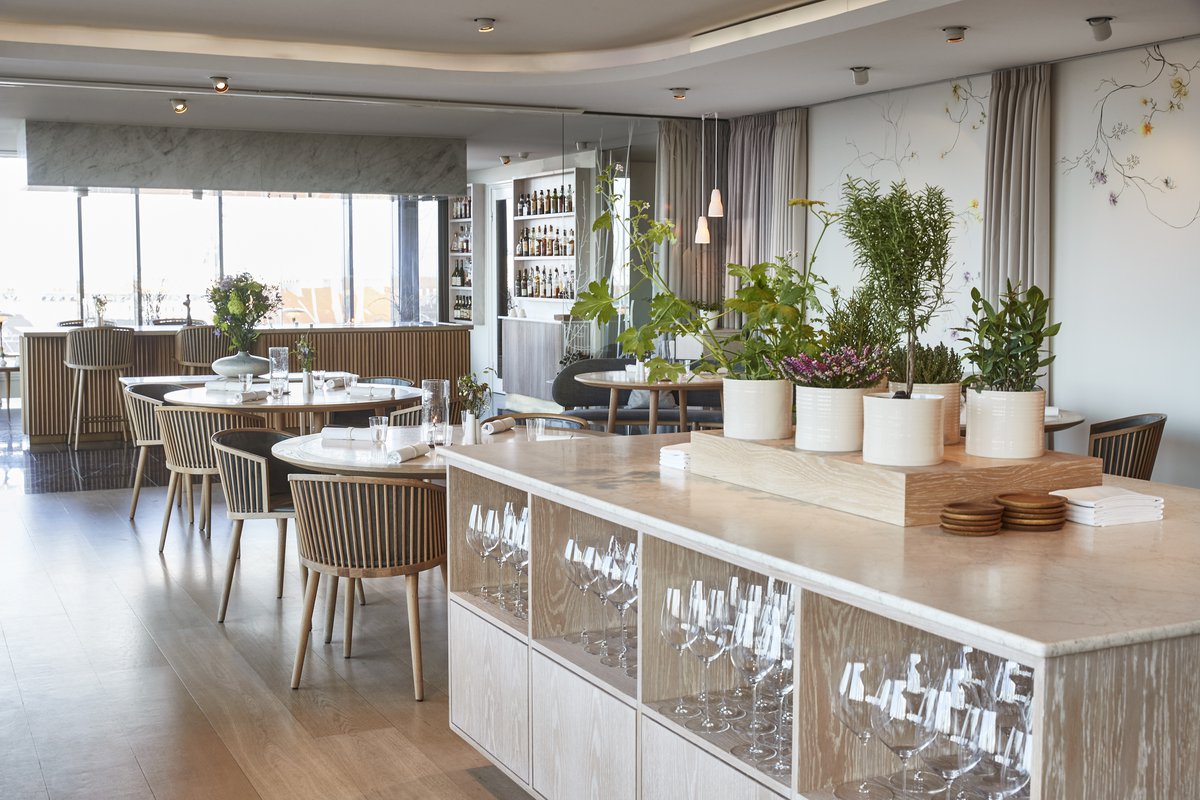 Geranium Interior. Photo - Claes Bech-Poulsen
Last year, the Geranium restaurant stated that, after 11 years in business, it would change its menu so that no meat or meat products would be offered in the future; instead, it would be focusing solely on plant-based and seafood cuisine.
Chef Rasmus Kofoed has made it clear that the lockdown has driven him to reevaluate his current situation and make new resolutions to stay relevant to the world and, most significantly, to himself.
Stepping away from the historical signature dishes like beet stones and Jerusalem artichoke leaves, and into the unexplored to make room for something new and innovative, but also bringing to the table the long-awaited dream and freedom of a true creative.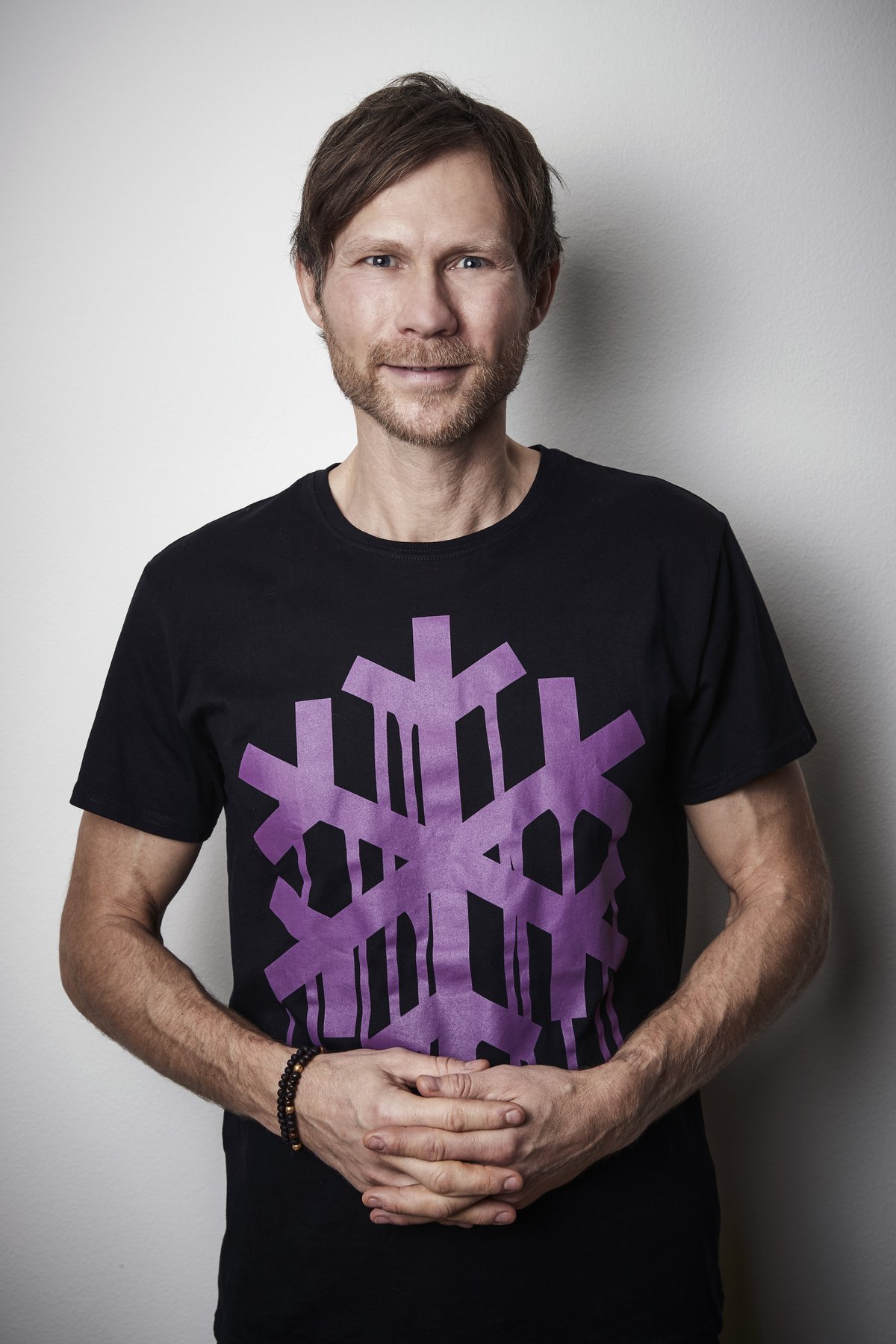 Rasmus Kofoed. Photo - Claes Bech-Poulsen
The inclination to offer less meat has always been essential to Kofoed's philosophy since the beginning, at the initial iteration of Geranium in 2007, and throughout the years, thus Kofoed's shift does not seem all that unexpected.
Following the chef's earlier comments that Geranium is a "living creature" that is led by natural rhythms, and in light of the new announcement, a concentration on vegetables appears to be the most appropriate choice.
Chef Rasmus Kofoed is the one who has stayed true to his goals and accomplishments throughout his career. His almost intimidating skillset of absolute precision, concentration, stamina, controlled perfectionism, ability to stay relevant and authentic, true to his identity while also being a low-key, modest person, soft-spoken leader, seeking a deeper, spiritually grounded understanding of the world, thoughtful interaction with the rhythms of nature, following the mindset of Rudolf Steiner, a thinker his mother was following.
Søren Ledet and Rasmus Kofoed. Photo - Claes Bech-Poulsen
For being the sole chef of the first three-starred restaurant in Denmark to win gold, silver, and bronze in the biennial culinary Olympics in Lyon, France in 2016, he was repeatedly presented in the media as the chef with an athlete's mind.
Geranium has maintained its stylish and modern appearance, acute elegance, personal, original, and highly technological culinary approach, amazing harmony between artful tasty cuisine with personality and context, and unique tableware.
We called the chef on his way to the restaurant from dropping his kids off at school, as it was the last day to fine-tune the new menu before its formal launch on March 2.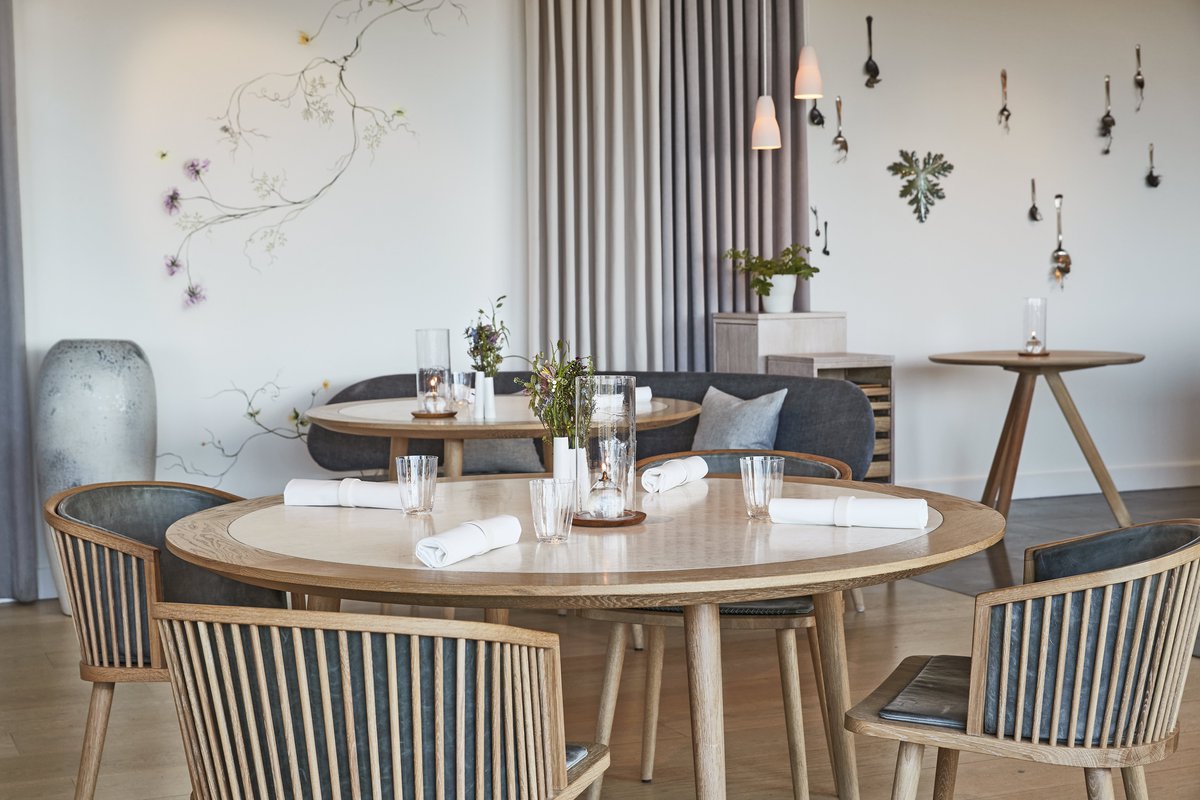 Geranium Interior. Photo - Claes Bech-Poulsen
The first impression of the new menu
It makes me happy. It takes time to recover from a long-term outbreak. I was excited to return to work after the first lockdown, but the team wasn't quite there yet; they were driven, but the flow had been damaged by such a long period of not working shoulder to shoulder, so it's been a lengthy process. We were able to strike a balance and avoid putting too much pressure on things.
I had a strong urge to cook with veggies because I had been a vegetarian for many years and had previously tried a plant-based diet for a year. As part of our terroir, we continue to serve fish and shellfish from the sea. I view our menu as a continuous process, and I give it the time it deserves to become flawless.
Finding alternatives 
We've had some issues, but while we used to add chicken stock to enhance the flavor, now we use vegetable infusions, dashi, mushroom juice reduction, and yeast flakes; and this change hasn't been easy, and it's taken a lot of effort. Now I believe what we've accomplished is pure and more in the path I had envisioned.
When I first released the menu in 2010, we had three meat courses and homemade charcuterie, but that has since altered.
The inspiration kitchen has a new aesthetic sense to it; where before you could only find meat goods in the fridge, today you can find fresh vegetables, which undoubtedly gives the team members a different feeling.
Going plant-based
We already used a sausage made from pea protein, and the taste was more than satisfying. We also use chickpeas with yeast that is grated over the bread serving and resembles Parmesan cheese. These products have good quality, and we are buying them externally.
I'm not against adding these products to the diet, as taste-wise and pea protein is considered healthy.
As for the future, I'd better use the premium quality organic chicken rather than the one made in the lab. I don't see myself buying a chicken from the laboratory but it can be a great alternative, as it contributes to helping the environment. We need to keep the mind open and keep a healthy balance.
A special dish
Several dishes feel special on the new menu. They are also a work in progress still. Such as "A Childhood Memory", a rye bread with cheese and vegetables. After the recent adjustment, we are going to serve it with cep mushrooms.
Vegetable rose "Roi Soleil" is served with pickled yellow beet with sea buckthorn and grilled yellow beet with cheese and fried egg yolk. That dish means something special, it's more than just a bite. Also there is  fried potatoes. The inspiration for it was found in the place of my honeymoon - The Palace of Versailles, where we discovered incredible art and the garden, stories of the sun king during the french revolution, the braveness and the tragedy. 
This sparked the thoughts about life, seizing the moment. 
There's also this special one that arrives in the ice-cold cup, it features oyster, raw seafood, cucumber, muscle juice, and radish. it embodies Copenhagen right now, crisp cold, and windy late autumn. 
Sometimes I take a swim in the ice-cold water, some water feels salty on the lips, you feel the freshness when you come out of the water to feel the strong energy sensation that sets your body on fire. That is the special feeling that I wanted to transfer into the dish.
Positive environment 
The new more sustainable direction for the restaurant is not something we have started now. We have been doing this before, and as you see we have lots of people who remain with us for a long time. I want my team to live their lives, when we are in the restaurant we are living in, the clock is ticking, we need to get the best out of the moment, it does not just work but also an opportunity to be inspired, create common energy. 
Every Saturday we have motivation talks. A chef holds a speech on a particular topic to a group of staff. We have vegetable juices for breakfast, for better performance.  We have a positive spirit there and you can feel it in the dining room. Even under pressure, we always speak respectfully to each other.
Italian spirit within the highly diverse team
Indeed we have 10 Italians in the kitchen and the dining room. This came out as a coincidence. We don't choose Italian people on purpose, they are just good.  We always look for personalities and discuss the candidates with the head chef. We want people to be able to also express themselves and not be robots, give a piece of their personality, positive spirit, we want something unique from each person.
That comes also with the logistic system we have implemented, so they can be relaxed while working. This implies, working hours, staff meals, and setting up of the kitchen.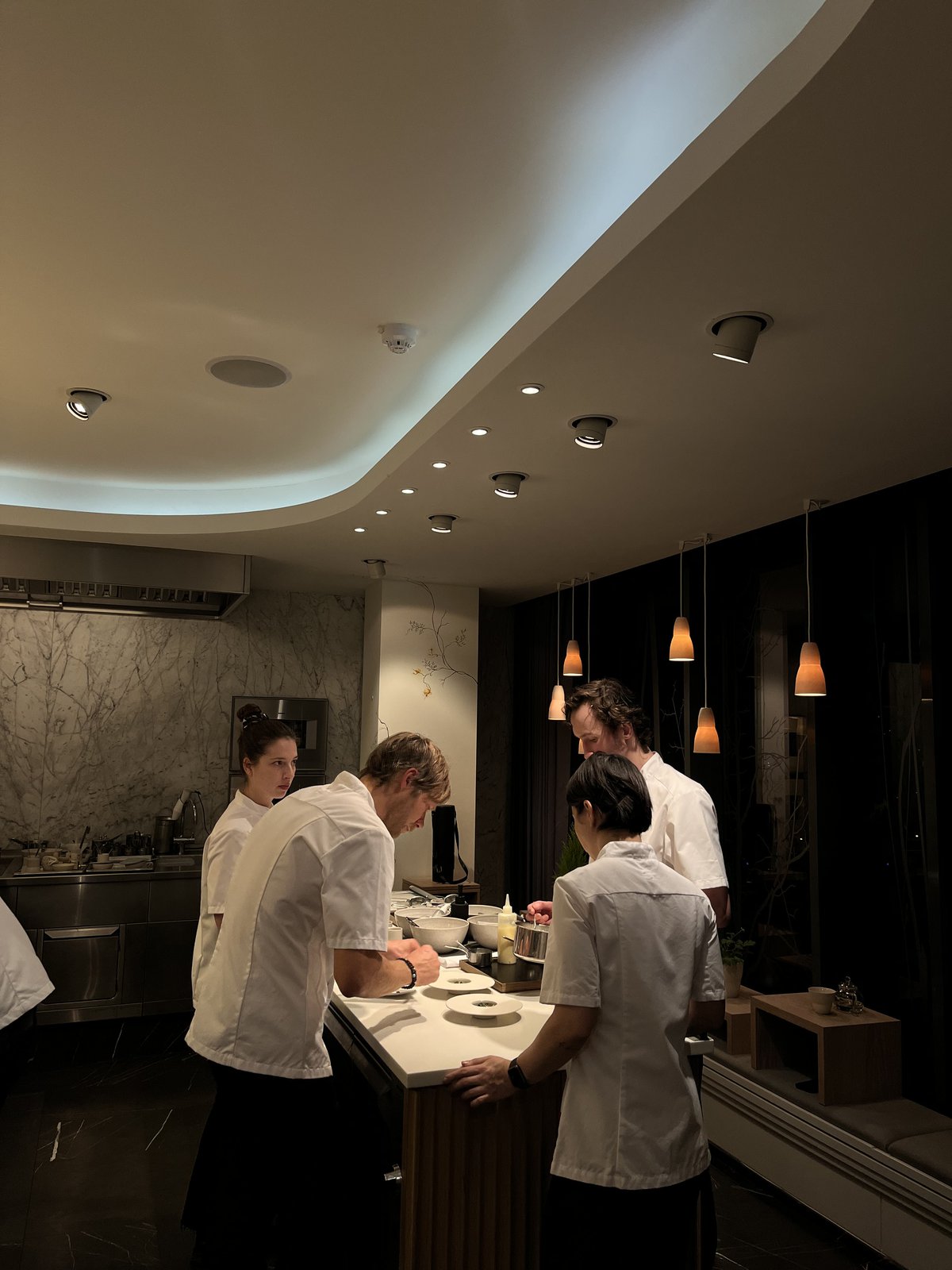 The biggest achievement so far
The ability to be a father of three and getting married was one of the greatest moments of my life. I also live my profession and to be able to do it after so many years. I feel privileged to be able to combine these worlds, find a good balance, and not exclude any of them. That's the biggest achievement.
More challenges?
Even if I wanted to, I don't have any more hours to spend. It's not enough time, I want to get the best out of life, sometimes stop and reflect, not just 200 km speed, but feel the life and reflect. I feel happiness, for the life I'm having and what I had. I have great things to be thankful for and I feel privileged.
The perfect getaway
Samsø Island, where I escape from time to time, comes out as a peaceful shelter where we have family time. 
Even in the Geranium dining room one can experience peace, similar to those at Samsø zen; the reflections of light, breathing dining room, natural plants like wood and stone, and fire.  
Being here, on my own, clears up the mind and gives more ideas. I read mostly children's books for kids before they go to sleep, the same one my mother was reading to me.  I've also been drawing and running a lot here, which usually comes up to 80 km per week.
The mindset
I see things as challenges, not problems, and we are constantly moving forward. Strictly focused on what we do, even while having amazing dishes I felt it creates something different, finds a new framework, and evolves following the world's change. The change is yet another opportunity to tell how important wildlife is, and show our connection.
Sometimes you just go out without thinking much about what you are eating, but I believe a restaurant like ours has a responsibility.
After the lockdown, I feel ready to have more responsibility, and it starts there.
There's a lot of pressure and expectation but I trust in what we are doing, always based on being true to yourself, as I've always been.
The perfect egg how-to 
The other day, I beat up some eggs with herb salt, pepper, lots of seasonal kale, cheese, and mild, then baked them in the oven. This egg cake was magical, especially on the rye bread, this happened on  Samsø.
Breakfast of the champion
If I'm running, it's beetroot juice. Otherwise soy yogurt with various seeds, cocoa nibs, cocoa powder bananas, that i would enjoy with a good cup of coffee.
Dishes from the Winter Universe 2022