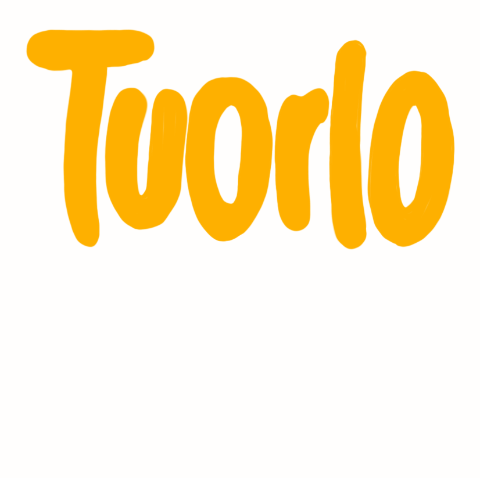 Food
Beyond the product - Marking Madrid's Fusion 20th Anniversary
"Without Madrid Fusion we would not be what we are."- Joan Roca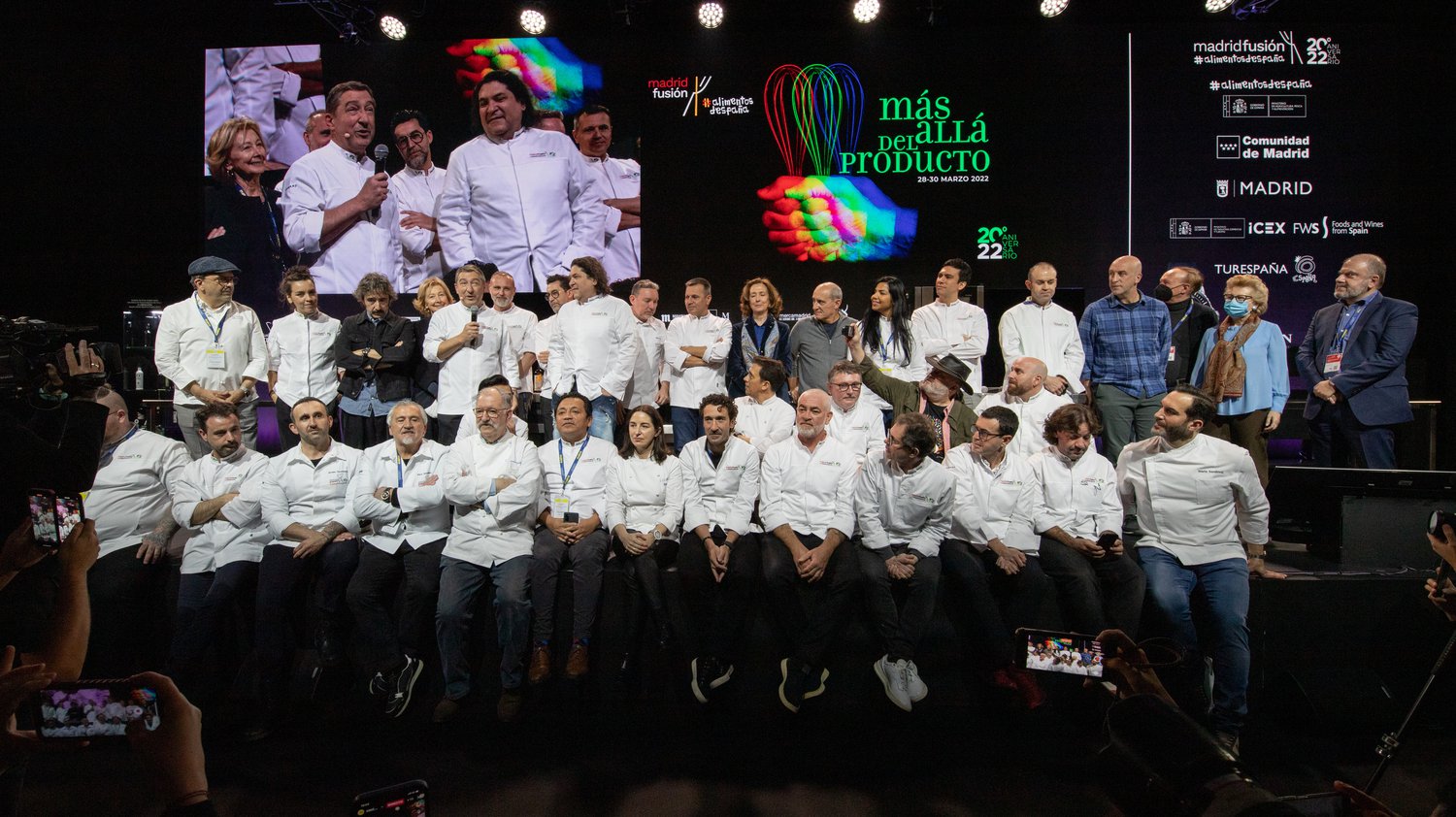 "I often ask myself, 'what is fine dining?' and the answer does not have to be a perfect technique, but it must be a dish made with a beautiful product." - Antonia Klugman.
No one would have thought the gastronomic congress, that held in Madrid in January 2003, would become the most important culinary event in the world.
After twenty years, plus recent challenges and crises faced by the industry, it once again, gathers the most influential, and bright minded-chefs to showcase new trends, challenges with statements about the future of the industry and about the way we can solve them. Most importantly, share the knowledge about the cooking that has become, yet another instrument for a positive change in the food system.
In these 20 years, Madrid Fusión stage served for world's most prominent chefs to share the ideas never revealed before, new techniques and approaches that later became milestones and significantly contributed to the global gastronomy.
Ferran Adria utilized the Madrid Fusión stage to reveal his plans of closing his El Bulli restaurant from 2012 to 2013. This is an example of how important the event is.
For chef René Redzepi, Madrid Fusion has served as a platform that helped in bringing the "New Nordic philosophy" to the global attention.
Arguably, one of the most special memories about the congress holds Brazilian Alex Atala, who believes there is a "before and after" the Madrid Fusion. Dated back to as far as 2005, during its third edition, did Atala first appear. This marked a sensational moment of a worldwide recognition of him as a chef championing produce, originating from Amazon, and establishing his restaurant, D.O.M in Sao Paulo on the world gastronomic map. Thus making him one of the forerunners of Latin American haute cuisine.
Thumbs up for the for the Peruvian chef Gaston Arcurio, who had a chance to share his immense work on discovering the diversity of Peru with the world back in 2006
When it comes to the present days, the three days of the current edition have displayed the ideas and reflection from the culinary brightest minds.
"It is not a presentation on aesthetics but a reflection on beauty and taste", said Quique Dacosta in the beginning of his presentation. He has reviewed the most representative techniques of his cuisine from the past years and paid a special tribute to Juanfra Valiente, who has been a part of his team for many years.
Dacosta talked about his native Valencia - the importance of local products such as Valencian oyster, and red shrimp, that he has used in his recipes for more than 20 years.
At the end, he showed a "The Piluka Box", inspired by the musical box that his chef Valiente's mother had.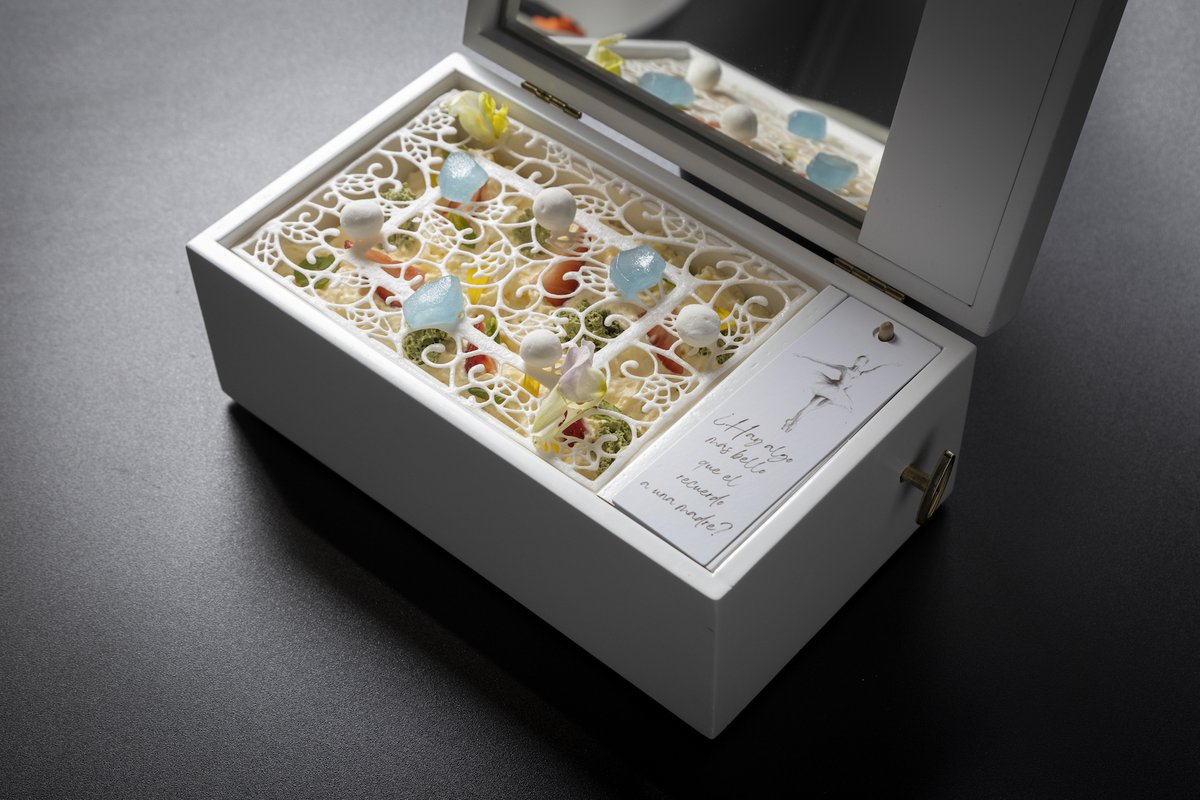 "It is the dish reminiscent of a mother, who has a smell, music and emotional beauty. There is nothing more beautiful than the memory of a mother. That is all cooking beauty entails". Dacosta closed.
In a most anticipated dialogue of this edition, Andoni Luis Aduriz and René Redzepi spoke about contemporary view on the avant-garde. They said and I quote - "Now the avant-garde is innovating, knowing how to manage the team, the purchase of food, the values. The new innovation is knowing how to manage restaurants, and not just focusing on a dish in itself".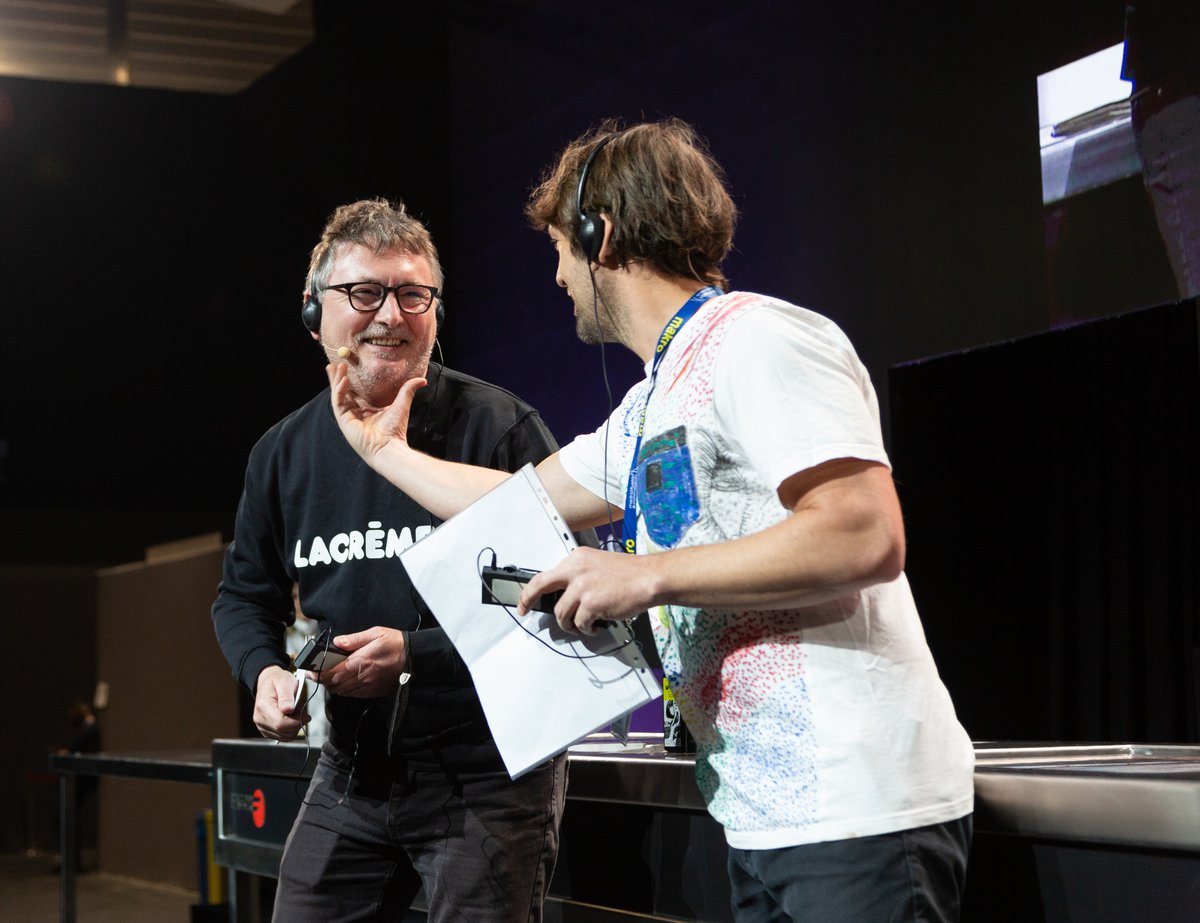 Danish chef, Rasmus Munk was not left out; he brought his immersive dining experience to Madrid Fusión and titled his presentation "Changing the world through gastronomy".
In his restaurant Alchemist in Copenhagen, the food stimulates a thought that "leads to emotions and makes diners face their own taboos." The chef brought current global issues to the table, and initiating a dialogue as part of his holistic cuisine philosophy.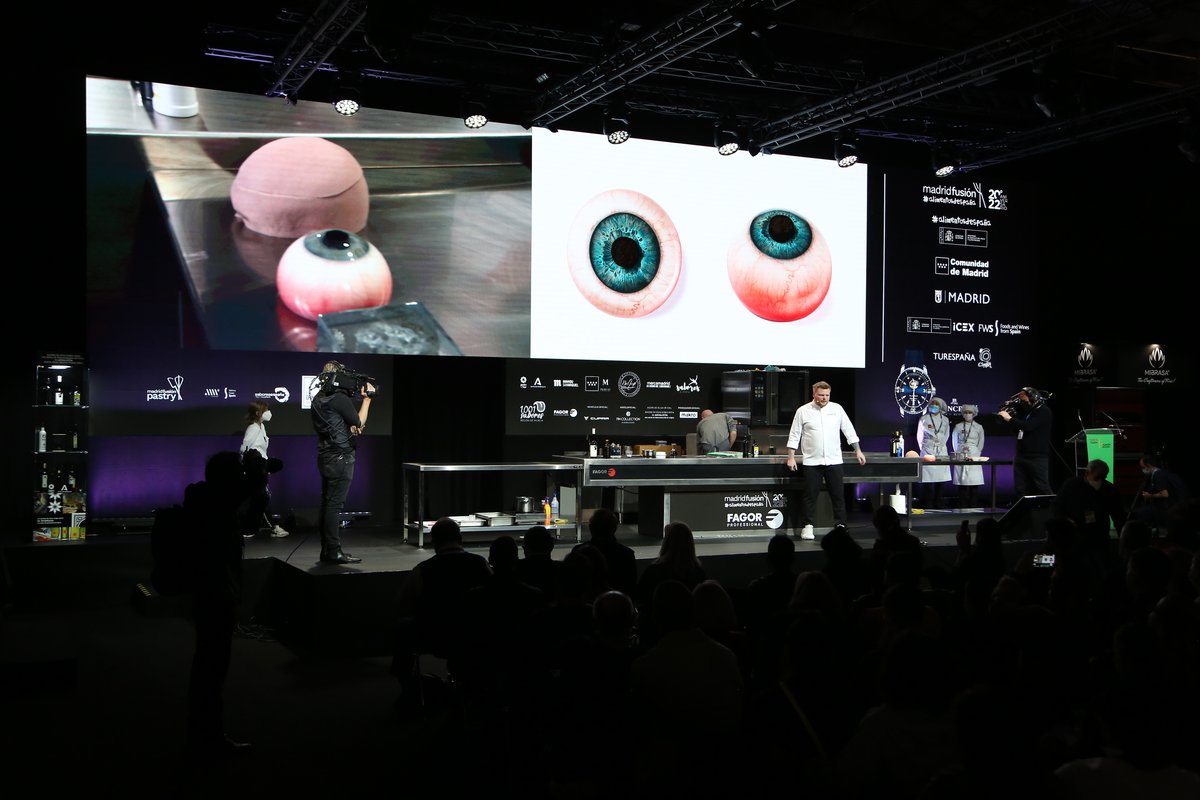 Munk has presented a dish «1984» inspired by the novel 1984 by George Orwell. The pupil of the eye is filled with white asparagus juice, pistachios and raw hamachi and topped with caviar and a fish eye gel.
Mexican chef Santiago Lastra, who has found success with his first restaurant Kol in London, UK, outlined his singular approach to sharing Mexican culture with the world in his presentation, "Translating flavors".
Cooking the flavors and textures of his home country, using British ingredients in an uncompromising approach to quality and a dedication to sustainable sourcing,
From Japan, Hisato Hamada outlined how he made the change from a career in cinema to starting Wagyumafia, a movement to spread the message of wagyu beef around the world in his presentation titled "The craftsmanship behind wagyu". He appeared on stage at Madrid Fusión on the sixth birthday of Wagyumafia and spoke of how the exclusive and expensive beef had changed his life when he connected with a farmer who asked him to act as a bridge between producers and consumers.
The Italian chef Antonia Klugman has said from the stage - "I often ask myself, 'what is fine dining?' and the answer does not have to be a perfect technique, but it must be a dish made with a beautiful product," she said. "The dishes have to communicate on their own." She also added, "I don't think it's so important for the customer to know whether it's a man or a woman doing the cooking. What is important is for the food to be good. Nor do I think that a chef's sex affects their style. I met many male colleagues who were offering cuisine with characteristics generally defined as feminine, such as delicacy or sweetness. Then, conversely, there were women who came up with daring colors and stark contrasts. We all have our own nuances. In a creative field, I don't believe that genders are so clear."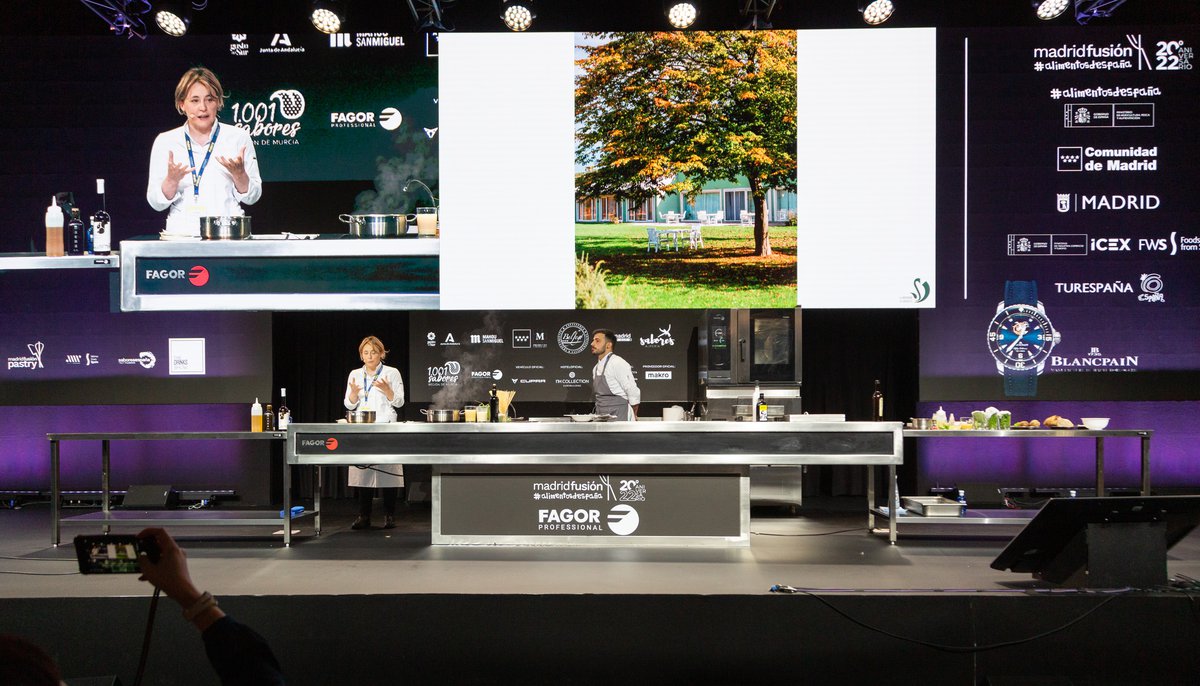 In his talk, Chef Eneko Aktza urged us to use the gastronomy for a more sustainable world. He said, "It is important at this age, we use food to live a healthy life". He believes in sustainability, and to "keep a safe and healthy food, is the most important component".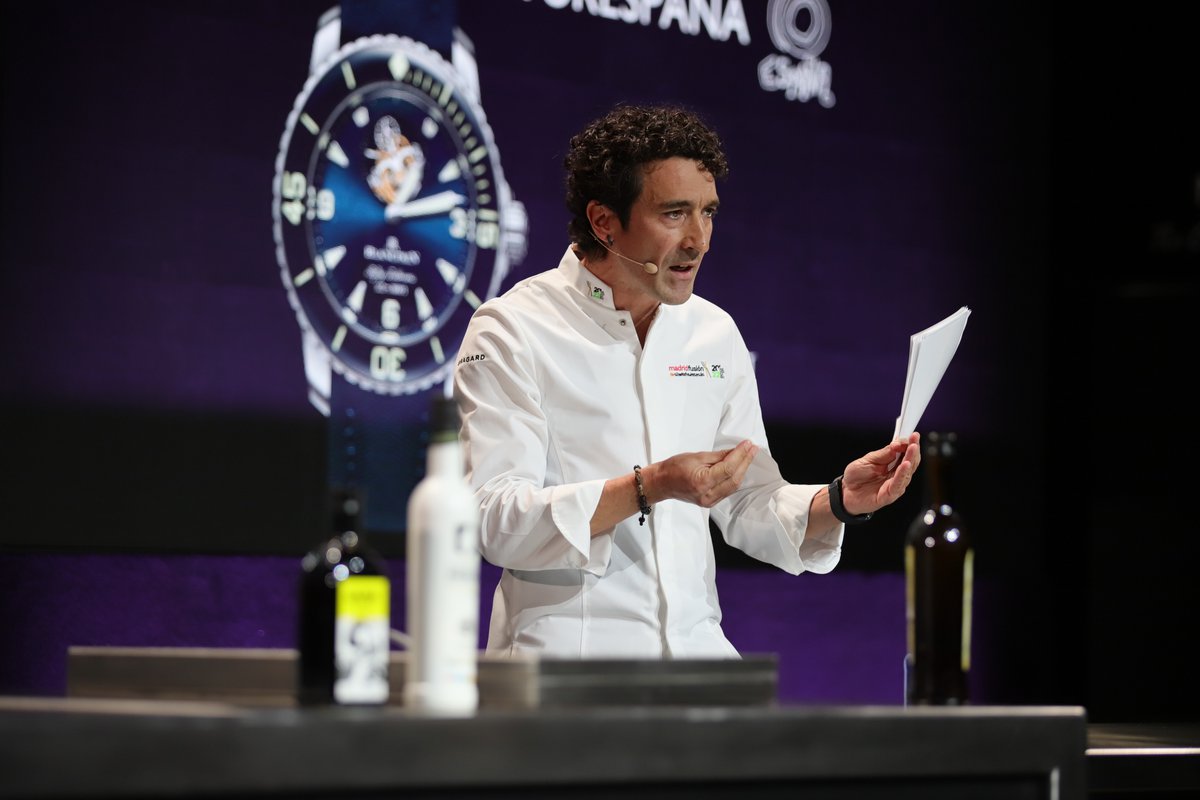 Eneko hopes we use the knowledge we have from the industry to eat in a more healthy way as food is a tool to change the world.
In some more emotional talks delivered by Chef Eneko, he said - "To ask the question, what Azurmendi is? Is to look at myself in the mirror, stripped back and open," he said. "We cook Basque cuisine in tune with the local territory because all I know is to cook food that absorbs from what I have lived, from my area and from my family."
For the chef Atsushi Tanaka, minimalist cuisine and aesthetic are at the centre, during his first appearance at Madrid Fusión stage he showed different techniques for cooking shellfish in a sustainable way, and how his unique aesthetics feel is making sense in his restaurant, recently awarded a Michelin star. "I believe that Scandinavia is like Japan. It is something pure, minimal, and simple. And I like that", he told the congress auditorium.
When Andreas Krolik launched a vegan-tasting menu offering at his restaurant Lafelur in Frankfurt in 2014, he was the first European chef to do so. Krolik said offering a vegan menu is not ideology, but simply a reflection of contemporary life. Eight years after introducing the vegan offer, 30% of diners choose this option when dining in Lafleur. The German chef shared his approach to zero-waste vegetable forward cooking. For his presentation on day two of Madrid Fusión, Alimentos de España demonstrated his approach to sustainability in Lafleur, by cooking a plate of food with a register of textures and flavors. While focusing on one main ingredient, "the Jerusalem artichoke".
El Celler de Can Roca's chef, Joan Roca confirms his faith in innovation and a new look at "the world of vegetables", which has come into its own at his restaurant. He said, "Our gaze into the world of vegetables has grown more intense, and now 80% of El Celler's fare is vegetables". We take a more direct look at the land, at our own plantation. A vegetable world in which they feel comfortable, a world we like.
The Ukrainian chef Xeniya Amber, was not left out as she went a long way to come to Madrid from Odessa. Her presence marked not only the first time ever a Ukrainian chef on the stage of the congress but also an important moment of solidarity.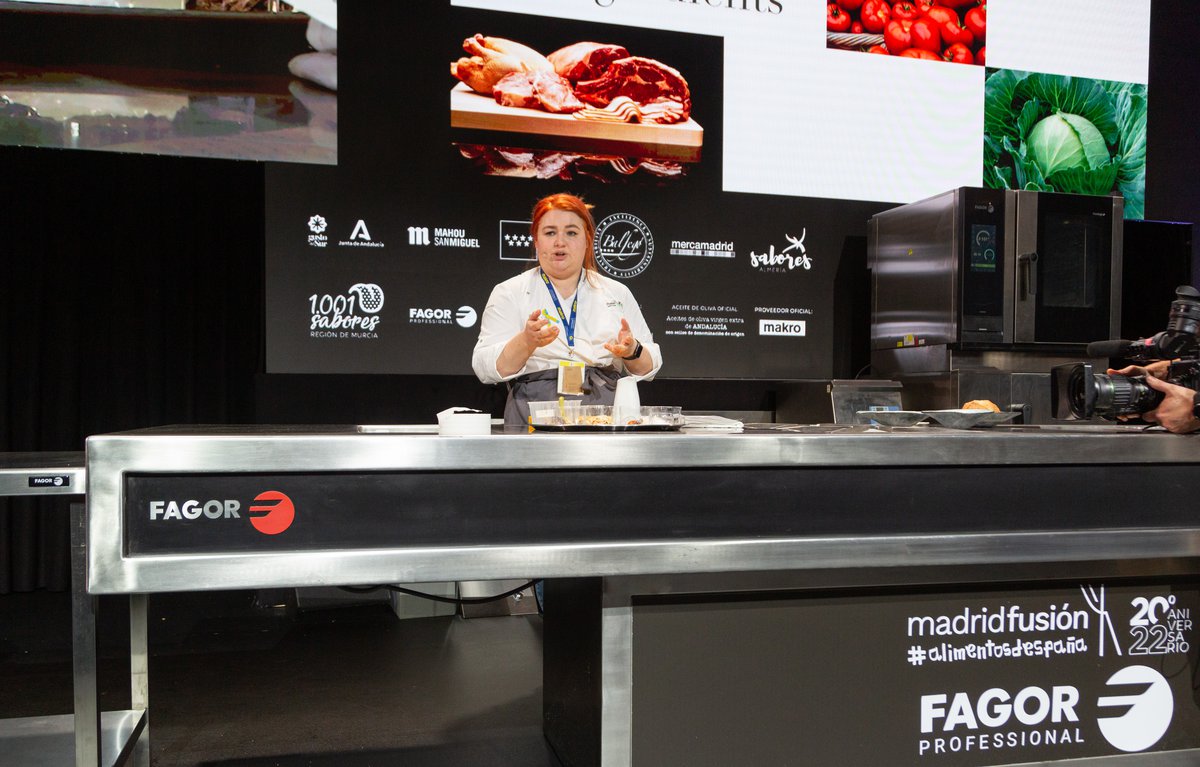 Xeniya had previously graduated from the culinary institute of America, and in her hometown is the head chef for a restaurant chain- Buro201. She used her time in Spain and during the congress to show the resourceful culinary scene of Ukraine and its great potential. Closing on the last day of the congress, she demonstrated her own interpretation of "Borscht" which is the DNA of every Ukrainian. While each region has its own special elements in the recipe, Ksenia has mentioned that hers contains pork, beef, dried mushrooms, butter seared cabbage and cream fresh. The presentation of a young chef concluded with a standing ovation.