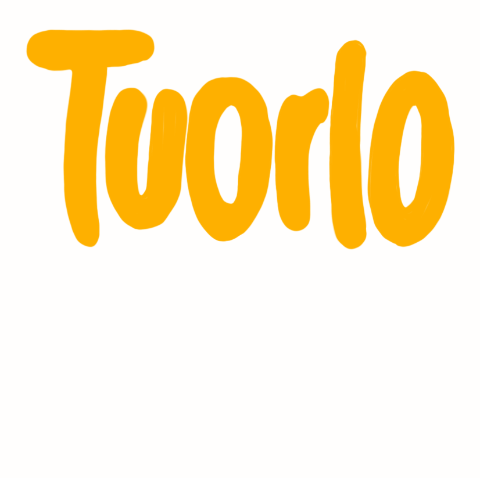 Food
Ukraine
Bringing traditional Ukrainian cuisine to the world stage – meet esteemed chef and Odesa native Ksenia Amber
We met up with Ksenia just before her public speech in Milan at the Identità Golose congress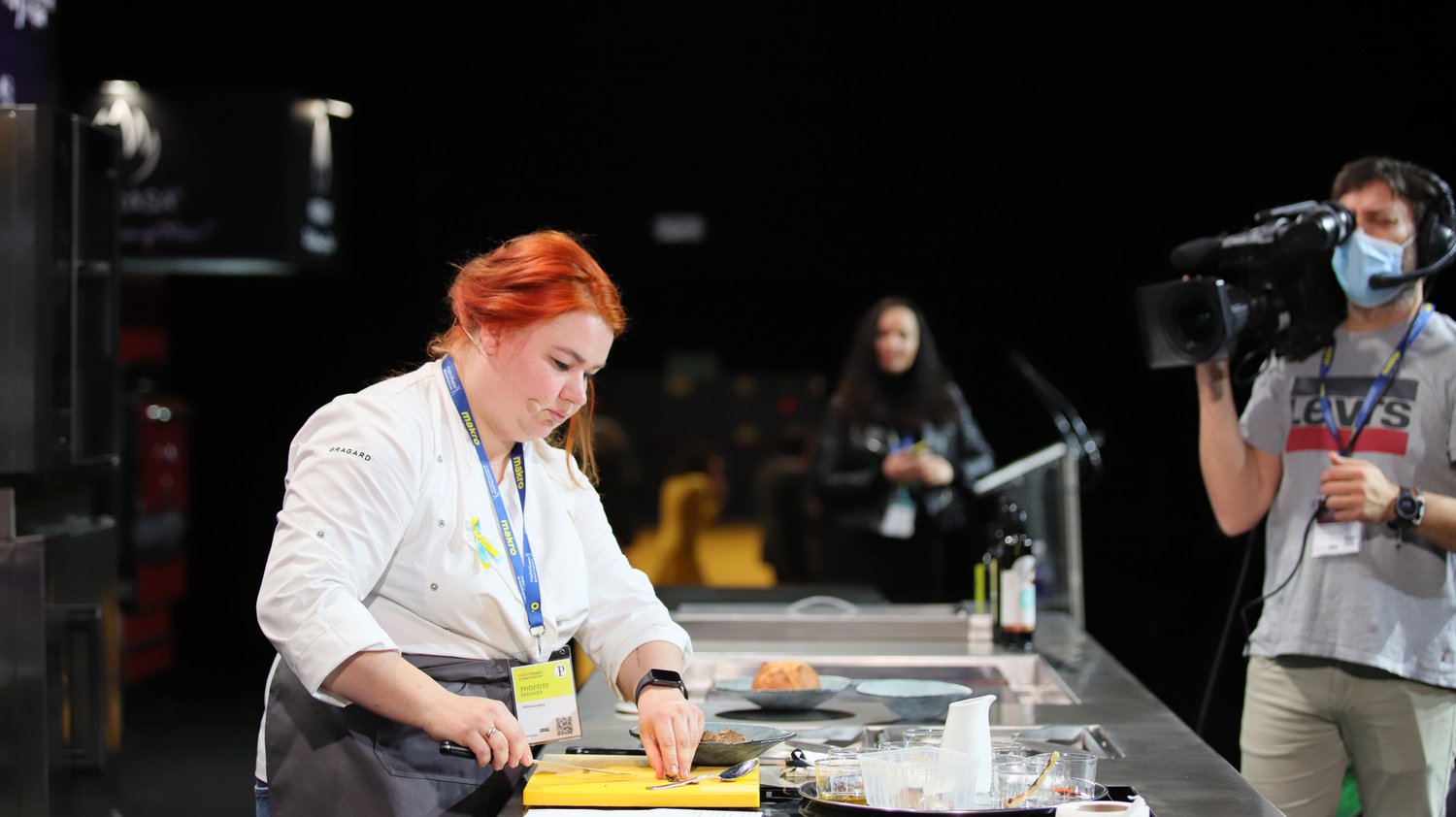 This March, Ksenia Amber, brand chef of the Buro 201 Restaurant Group, closed the most important international gastronomic congress, Madrid Fusión, with a powerful testimonial for Ukraine, her home country. She made her own version of traditional borscht with porcini mushrooms, a recipe inherited from her grandmother.
Ksenia left her home in Odesa earlier this year, leaving behind her husband and her family. She is determined to continue spreading the message about Ukraine and its people, about those in need, to provide help by hosting charity dinners and supporting #chefsofukraine initiatives for Ukrainian immigrants. We met up with Ksenia just before her latest public speech in Milan at the Identità Golose congress…
Tell us a little bit about life before February 24. How did you get into cooking, what plans and ideas did you have for the future in Ukraine?
I have been working in professional kitchens for almost 13 years. I can proudly say that all my projects have been successful and have been well received by both Ukrainian and international audiences. I came into cooking by chance, as I actually trained as a ceramic artist. However, I have never once regretted the fact that I completely changed my path in life. I have a large Jewish family. Grandma was always an amazing cook and the backbone of our family. Even in challenging times, she knew how to make a masterpiece, very masterfully using local herbs, vegetables, and any available products. As for plans, in the summer, with our restaurant group Buro201 we were to open an amazing place where we were supposed to have a restaurant with a summer kitchen in a big garden in the grounds of the former Champagne Factory on the French Boulevard. We wanted to take this project to an international level, but events have changed that.
What was restaurant life like in Odessa before February 24?
Odesa has a unique past. Due to it being one of the most important ports of the Russian empire, there has always been a vibrant mix of people and cultures such as Armenians, Bulgarians, Germans, Greeks, Italians and Russians that have impacted the distinctive appearance of the city, its culture and gastronomy.
Odesa restaurant life is very multicultural and slightly different from Kyiv's, and over the past couple of years, several very worthy projects have opened in the city, which I visited repeatedly and was delighted by. There is a special feel to Odesa, and I don't mean the post-soviet vibe, but those antique recipes like one would find in restaurant Alupka in Primorsky boulevard, that served elegant French style treats. These kinds of concepts I'd like to see more often in Odesa.
It's also often said that Odessa cuisine is the cuisine of the grandmothers, and I miss my grandma's food a lot. I remember braised duck and chicken hearts and gizzards. My grandma used to make a kind of pate with them, to be served with roasted garlic potatoes. I miss it terribly.
At what point did you decide to leave?
I hardly thought about it to begin with, but I was contacted and invited to put on some charity dinners in the Canary Islands (Tenerife), and then to perform at the Madrid Fusión. The decision was very difficult for me, and probably, if I hadn't been encouraged to go by my family, I would have stayed in Odessa.
What's going on with your restaurants/team/relatives in Odesa right now?
My relatives are still in Odesa. Mom resumes work gradually, my father retired, my husband and his brother are also gradually returning to training children (they have their own judo club).
Right after you left Odesa, you ended up in Madrid Fusión. How did you get to the city from Ukraine?
For the three weeks before leaving, I used to hear the sound of sirens, sounds of explosions, I was stressed from running to share the bomb shelter with our dogs and 15 family members. I saw so many people who didn't want to leave their homes, I felt worried every day.
It was not an easy trip out of Ukraine, but I think I had to go through it to feel a little stronger. Early in the morning I got on the bus with 42 other people and we drove through many checkpoints to Orlovka (the Ukrainian border with Romania), this took almost 8 hours, then a ferry ride and I was in Romania. Next there was a long and tiring drive to Bucharest. After that I needed a long nap. I spent two days in very beautiful and welcoming Bucharest, taking a little time out to explore the incredible museums and the old part of town. And then, I flew to Madrid, spending one incredible day there filled with walks through museums and the Botanical Gardens, and then I hit the road again.
How do you feel after almost a month of Madrid Fusión?
It was my first time at an event with so many chefs that I had only seen on Netflix before. It was exciting, but I didn't feel uncomfortable. Now I think it's just the beginning of my journey to stardom.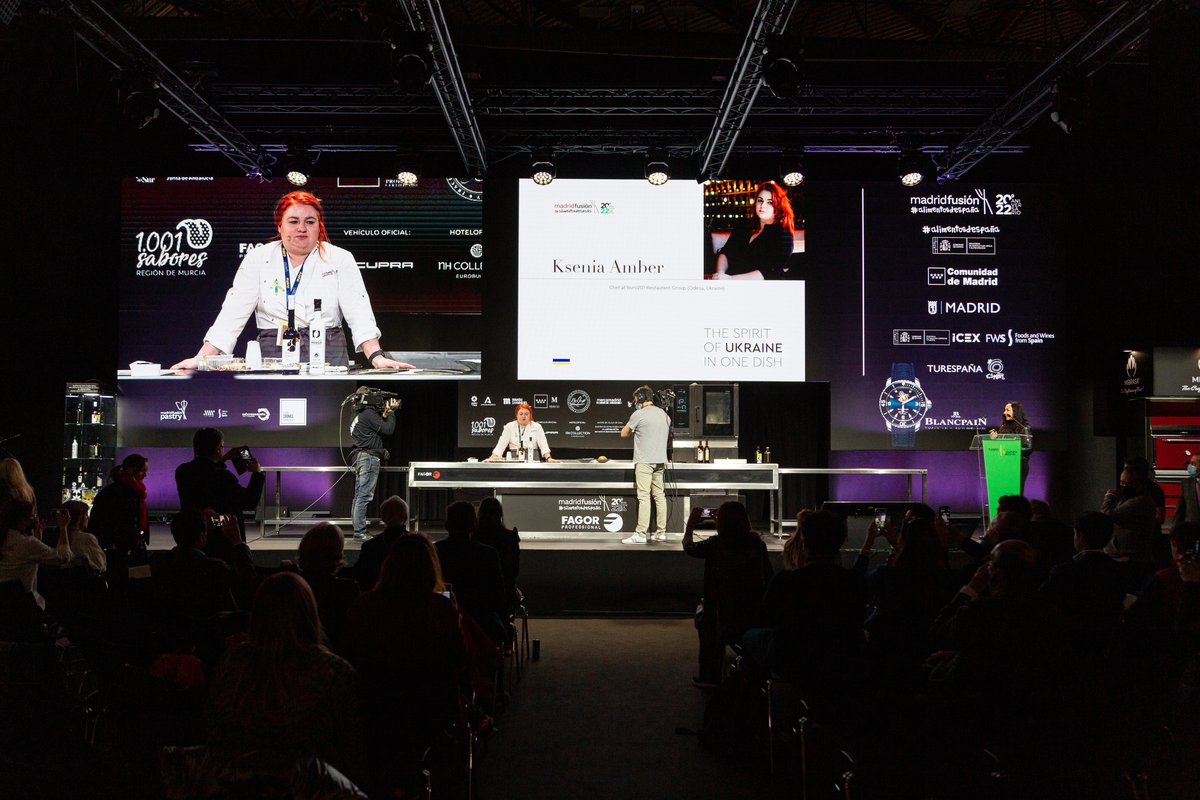 Ksenia Amber closing Madrid Fusión congress
Do you feel you have a mission or a need to be heard in the global community? What do you think is important to get across to this community right now?
My mission now is to be as helpful as possible to my country and to my people in this very troubling period. To those who are left alone, to the women who were forced to leave the country with young children without their husbands, to the children, to the elderly. To everyone I can help by collecting donations by doing what I know how to do. Now it's important to show the real picture, to show that through this blind aggression nothing can be achieved. To show and tell that despite the fact that my country is very young, it is very strong. And my people are more united than ever.
Tell us about your performance in Milan on April 23, and why this particular choice of dishes (for the presentation / dinners)?
I don't have much time, but I want to talk quickly about our traditions and cultural heritage. My choice fell on the cherry dumplings my grandmother used to make me when I was feeling down. What could be more awesome than blanched juicy cherries wrapped in very thin dough, that burst in your mouth, filling it with an incredible combination of acidity and sweetness? It always brings a sly smile to my face.
It's also how I want to show all of Italy that pasta with a filling has a special place in our hearts in Ukraine.
How do you think these events are affecting Ukrainian gastronomy now? What are you most worried about and how do you see the future?
It's a tough time right now, but our hero chefs, who cook on the front lines for the guys who protect us, cook for the lonely and for those who are in need. The only thing that worries me is the timing, it's not clear when it will all be over.
But I believe that things will get better, our work will gradually return to its usual rhythm, our kitchen will play with new colors.
I believe in our chefs, they have the strength to survive all this.